Report from Headquarters
---
Space Foundation Moving to New Headquarters
Written by: developer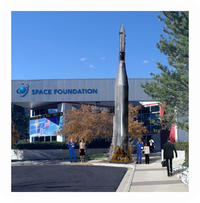 The Space Foundation is moving to a bigger, better headquarters building in Colorado Springs, Colo., later this year thanks to generous support from El Pomar Foundation, the Anna Keesling Ackerman Fund, the Colorado Springs Regional Economic Development Corporation (EDC) and the State of Colorado Economic Development Commission.
The Space Foundation plans to move to the 45,715 square-foot facility in the Gardens of the Gods high-tech corridor by next summer. The approximately $960,000 purchase was funded primarily by El Pomar Foundation and its internal Ackerman Fund, which granted a total of $610,000 - $385,000 in the name of El Pomar and $225,000 in the name of the Ackerman Fund. The EDC helped locate the property and broker the real estate deal and the State of Colorado Economic Development Commission provided $350,000 in matching funds.
El Pomar Foundation, one of the largest and oldest private foundations in the Rocky Mountain West, contributes approximately $20 million annually through grants and programs to support Colorado non-profit organizations involved in health, human services, education, arts and humanities and civic and community initiatives. The Ackerman Fund, which has been part of El Pomar since 2006, continues the charitable intent of Jasper D. Ackerman, a business leader in Colorado Springs from the 1940s until his death in 1988. To learn more about El Pomar Foundation, click here.
The Space Foundation has committed to keeping its headquarters in Colorado Springs and holding its annual National Space Symposium in El Paso County, where Colorado Springs is located, for 15 years from the date of the gift. The Space Foundation was founded in Colorado Springs in 1983 and has held the National Space Symposium there for the past 26 years.
The EDC is a private not-for-profit corporation that sustains quality of life in southern Colorado by providing economic development services that result in economic diversity, replacement of lost jobs and new job opportunities. For more information, click here.
For more information on the announcement event, see the related article in this issue of Space Watch. To find out about planned renovations and how you can help, click here.
Pictured: Artist's rendering of proposed Space Foundation headquarters; courtesy of The Larson Group Architects
This article is part of Space Watch: February 2011 (Volume: 10, Issue: 2).
---
Posted in Report from Headquarters