Report from Headquarters
---
Space Foundation Promotes STEM Through STARS
Written by: developer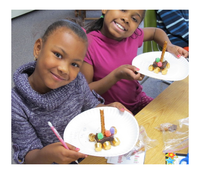 The Space Foundation's education programs support teachers and PreK-12 students with standards-based curriculum that integrates science, technology, engineering and mathematics (STEM) into all content areas. One of its primary outreach programs is STARS (Science, Technology and Academic Readiness for Space), a hands-on science enrichment program for students based on participant schools' specific academic needs. From rocketry to Earth science, the Space Foundation custom-designs programs for students of various grade levels.
Since January, the Space Foundation education team has been visiting Century Elementary School in the Denver area once a week to present space-related activities to students. Two after-school classes are held every week, exploring the wonders of science through space. The class for grades 3-5 has been learning about the basics of rockets. Through building four different types of rockets, students have learned about Newton's Laws, experimental design and the scientific method.
The second class, for grades K-2, has learned about microgravity, about flight with paper airplanes and building their own Mars Science Laboratory, a rover set to launch for Mars this year.
Learn more about Space Foundation education programs here.
Pictured: Students at Century Elementary School in Aurora, Colo., participated in a Space Foundation STARS program where they learned about Curiosity, the Mars Science Laboratory set to launch toward the red planet later this year. The students then made models of the rover out of edible materials.
This article is part of Space Watch: March 2011 (Volume: 10, Issue: 3).
---
Posted in Report from Headquarters