Space Foundation Press Releases
---
27th National Space Symposium to Feature New Simulcast Lounge
Written by: developer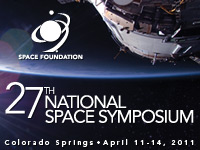 COLORADO SPRINGS, Colo. (Mar. 24, 2011) — A new addition to the Space Foundation's 27th National Space Symposium will be a Simulcast Lounge, featuring LCD monitors and all-day coffee service. Sponsored by Space Foundation Contributing Member Integral Systems, the lounge will provide Symposium attendees with a relaxed setting to settle into comfortable couches and check e-mail, organize notes or chat with other attendees, without missing any of the speakers or panel discussions.
The lounge will be available only to registered Symposium attendees, 8:00 a.m.-5:00 p.m., April 12-14.
The Simulcast Lounge is just one of many new additions to this year's National Space Symposium. Others include:
Expanded Boeing Exhibit Center, with three indoor exhibit centers and one outdoor spacecraft showroom. Interactive maps make booths easier to find this year.

A Space Shuttle art auction — beautifully matted and framed original Space Shuttle art prints autographed by selected Space Shuttle Commanders — one for each of the Space Shuttle vehicles. The auction will fund Space Foundation STARS classroom-enrichment programs and scholarships for teachers to attend Space Across the Curriculum courses.
The Industry Salutes the Space Shuttle luncheon — in recognition of the 30th anniversary of the first orbital Space Shuttle launch and the end of the Shuttle program later this year. The luncheon is co-sponsored by United Space Alliance (USA).

A student space art contest, with prizes presented to winning students by former NASA astronaut Capt. Robert L. Curbeam, Jr., USN (Retired). The contest is co-sponsored by ARES Corporation and Fisher Space Pen Co.

Conveniently located cell phone charging stations, co-sponsored by Swedish Space Corporation (SSC).

Attendees can have all the Symposium information on their smart phones this year by visiting: http://nss11.mobile.mapyourshow.com

 or scan the Quick Response (QR) code with the phone's camera to view the site directly.
The 27th National Space Symposium will be held April 11-14 at The Broadmoor Hotel in Colorado Springs., Colo., and features forums, panels, presentations, speeches, special events and ample opportunity to hear from and network with the space community's most influential leaders.
Find more details online, including registration information and agenda at www.NationalSpaceSymposium.org.
27th National Space Symposium Co-Sponsors
Confirmed co-sponsors include: ADD STAFF; a.i. solutions; Analytical Graphics, Inc. (AGI); ARES Corporation; Arianespace; ATK; Ball Aerospace & Technologies Corp.; Blue Ridge Networks; The Boeing Company; Booz Allen Hamilton; Cisco Systems, Inc.; Euroconsult; Fisher Space Pen Co.; GMV; General Dynamics; IBM; ILA Berlin Air Show; Integral Systems; Intelsat General Corporation; International Academy of Astronautics (IAA); International Space University (ISU); Iridium; Lockheed Martin; Maui Economic Development Board (MEDB); Moog; Northrop Grumman; Paradigm; Pratt & Whitney Rocketdyne; QinetiQ; Raytheon; SAIC; SES World Skies; SI Corporation, Inc.; Space Generation Advisory Council (SGAC); SpaceSystems/Loral; SpaceX; Stellar Solutions; Swedish Space Corporation (SSC); United Launch Alliance; and United Space Alliance. Aviation Week; Defense Systems; and Space News International are official media partners. Additional sponsorship opportunities are available; interested companies should contact [email protected].
About the Space Foundation
The Space Foundation is a global, nonprofit organization and the foremost advocate for all sectors of the space industry – civil, commercial, military and intelligence. Founded in 1983, the Space Foundation is a leader in space awareness activities, educational programs that bring space into the classroom, and major industry events, including the National Space Symposium, all in support of its mission "to advance space-related endeavors to inspire, enable and propel humanity." An expert in all aspects of the global space industry, the Space Foundation publishes The Space Report: The Authoritative Guide to Global Space Activity and provides three indices that track daily performance of the space industry. Through its Space Certification and Space Technology Hall of Fame® programs, the Space Foundation recognizes space-based technologies and innovations that have been adapted to improve life on Earth. Headquartered in Colorado Springs, the Space Foundation conducts research and analysis and government affairs activities from its Washington, D.C., office and has field representatives in Houston, Texas, and Cape Canaveral, Fla. For more information, visit www.SpaceFoundation.org. Follow us on Twitter, Facebook and LinkedIn, and read about the latest space news and Space Foundation activities in Space Watch.
# # #
---
Posted in Space Foundation Press Releases