Report from Headquarters
---
Morrow Winner's MOON SHOT e-Book Released
Written by: developer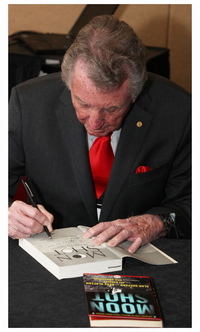 To commemorate the 50th anniversary of the first American in space, MOON SHOT: The Inside Story of America's Apollo Moon Landing (e-riginal; Open Road Integrated Media; May 2, 2011) is being republished as an enhanced ebook, including embedded video and new, untold stories about America's adventures during the Apollo flights. The MOON SHOT e-book, which is available May 2, was written by Mercury Seven Astronauts Alan Shepard and Deke Slayton along with journalist Jay Barbree, recipient of the Space Foundation's 2011 Douglas S. Morrow Public Outreach Award.
Shepard and Slayton were at the heart of America's efforts to tame space and Barbree is the only journalist to cover every American manned space flight. In the new edition, updated and enhanced from the original 1994 version, Barbree added never-before-told stories of Apollo missions and offered his thoughts of the state of the American space program today.
Shepard and Slayton were among America's original astronauts. The first American in space, Shepard later with his partner Edgar Mitchell took the longest walk – two miles – on the Moon. Slayton – along with astronauts Tom Stafford and Vance Brand – flew the historic first space mission docking with the Russians, a step that took a long stride to end the Cold War.
MOON SHOT covers the first missions, the first spacewalk, the first orbital rendezvous and docking and how only 12 people have walked the Lunar surface. It also covers failures: the masterful saving by astronauts Neil Armstrong and David Scott of an out-of-control Gemini 8; the Apollo One launch pad fire that killed Gus Grissom, Ed White and Roger Chafee; the split-second decision to land Apollo 11 on the Moon despite overloaded computers and low fuel; and the "failure is no option" effort to save the crippled Apollo 13.
Published in eight countries, the original version of MOON SHOT was made into a four-hour television miniseries, narrated by Barry Corbin, that aired on TBS in 1994. The miniseries featured interviews with American astronauts as well as a few Russian cosmonauts. Slayton died before the miniseries completed production in 1993 and the miniseries is dedicated to his memory.
For more information on the e-book, click here.
Barbree is author or co-author of seven books, including two memoirs.
Pictured: Barbree autographs a copy of the print version of MOON SHOT during the 27th National Space Symposium
This article is part of Space Watch: May 2011 (Volume: 10, Issue: 5).
---
Posted in Report from Headquarters