Report from Washington, D.C.
---
New Generation Program Focuses on Washington
Written by: developer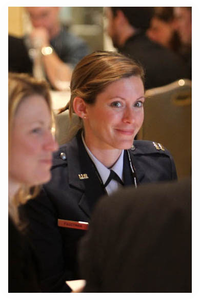 The Space Foundation's New Generation Space Leaders Initiative continued to grow at the 27th National Space Symposium with almost 150 young space professionals attending specialized programs. The New Generation Initiatives featured a full week of events that kicked off on April 11 with the popular "speed mentoring" New Generation Leadership Exchange. During the exchange, up-and-coming space professionals met with senior industry leaders to gather insight and gain helpful career tips.
New Generation Space Leadership Exchange
The "speed mentoring" format had mentors moving from table to table for brief conversations with the young professionals. The participating senior mentors were:
The Honorable Barbara M. Barrett, chief executive officer of Triple Creek Guest Ranch, former U.S. Ambassador to Finland
Emmanuel de Lipkowski, space attaché and representative for the Centre National d'Etudes Spatiales (CNES), the government agency responsible for France's space policy, based at the French Embassy in the United States of America
Martin C. Faga, former director of the National Reconnaissance Office
The Honorable Lori B. Garver, deputy administrator of the National Aeronautics and Space Administration (NASA)
Lon Levin, president of SkySevenVentures
James Maser, president of Pratt & Whitney Rocketdyne
CAPT Michael J. McCulley, USN (Retired), pilot, Space Shuttle Atlantis STS-34, and Chairman of the Board of Directors, Astronaut Memorial Foundation
Gen. Thomas S. Moorman, Jr., USAF (Retired), senior executive advisor for Booz Allen Hamilton
Kay Sears, president of Intelsat General, co-chair of the President's National Security Telecommunications Advisory Committee (NSTAC)
Patti Grace Smith, principal of Patti Grace Smith Consulting
New Generation Workshops
With a significant portion of direction and funding for space-related operations coming from Washington, D.C., the New Generation Space Leaders focused on providing participants with a better understanding of how policy and budgets are developed.
The Federal Budget Process
Beginning with the Federal Budget Process workshop, the New Generation Space Leaders heard from White House officials from both the Office of Management and Budget and the Office of Science and Technology Policy about the various actors and stages through which the federal budget is shaped and crafted annually. The participating panelists were:
Ryan Schaefer, program examiner, White House Office of Management and Budget, Executive Office of the President
Damon Wells, assistant director, White House Office of Science and Technology Policy, Executive Office of the President
I'm a Lobbyist and I'm Here to Help
The second workshop, I'm a Lobbyist and I'm Here to Help, gave New Generation Space Leaders insight into who lobbyists are, what they do, and their role in the creation of space policy. The participating panelists were:
Mark Bitterman, senior vice president of government relations, Orbital Sciences Corporation
Erin Neal, director, congressional relations, ATK
Eric Stallmer, vice president, government relations, Analytical Graphics, Inc.
Federal Space Policy
Peter Marquez, vice president of strategy and planning, Orbital Sciences Corporation, and former director of space policy for the National Security Council, shared his experience leading the inter-agency process to craft the 2010 National Space Policy.
Pictured: New Generation participants gain insight during the highly popular Leadership Exchange
This article is part of Space Watch: May 2011 (Volume: 10, Issue: 5).
---
Posted in Report from Washington, D.C.