Report from Headquarters
---
Teacher Liaisons Tour NAVSYS
Written by: developer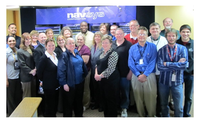 Each spring, Space Foundation Teacher Liaisons who are officially inducted into the Teacher Liaison program that year at the National Space Symposium also participate in a professional development tour of a Colorado Front Range business or organization. This year, more than 20 of the teachers toured the Colorado Springs-based business NAVSYS.
"The concept behind the Teacher Liaison professional development tour is to give educators a unique glimpse into industry," said Bobby Gagnon, who coordinates the Space Foundation's Teacher Liaison program. "This year the teachers were given an opportunity to not only learn the incredibly diverse applications of GPS, but also how a small company bids for projects and develops unique devices to fit the demand of their customers. NAVSYS did an outstanding job of 'educating' the educators."
Space Foundation Teacher Liaisons serve as active links between the Space Foundation, NASA and their schools and school districts. They are selected by a panel comprising experienced Teacher Liaisons and representatives from the space industry and the military.
NAVSYS is a small (35 employees) and established (25 year-old) company that focuses on leading edge innovation and R&D in GPS. During the tour, teachers were shown innovations NAVSYS pioneered including the technology that enables cell phones to transmit location data to 911 operators and allows military commanders to target bombs more precisely. They saw some of the GPS equipment developed by NAVSYS in its early years, which will be on permanent display in 2012 at the Smithsonian satellite navigation exhibit of the National Air and Space Museum, and they left the tour with CDs containing videos, pictures and reference materials to use in their classrooms.
About NAVSYS
Founded in 1986 by Dr. Alison Brown, NAVSYS is an established and growing R&D firm breaking ground in GPS, inertial navigation and communications products for government and commercial customers. The NAVSYS area of technological expertise is described as "GPS innovations" — the use of advanced technology and novel system architectures to improve on conventional GPS equipment and methods for specific market applications. The technology that has been developed is broad and is protected by both patents and trade secrets. NAVSYS is leveraging its technology base through a combination of product sales, service operations and licensing.
NAVSYS was the recipient of the prestigious 2007 SBIR Tibbetts Award and AFEI's 2008 Excellence in Enterprise Integration Award. NAVSYS offers its engineers a learning and development environment with access to cutting edge technology. NAVSYS employees work in a high tech, dog-friendly environment, housed in a former woodcarver museum in northern Colorado Springs. Read more about NAVSYS and download white papers at www.navsys.com.
Pictured: A group of Space Foundation Teacher Liaisons tours the headquarters of NAVSYS, this year's National Space Symposium professional development tour for educators.
This article is part of Space Watch: May 2011 (Volume: 10, Issue: 5).
---
Posted in Report from Headquarters