Report from Headquarters
---
WWII Veterans Attend Symposium
Written by: developer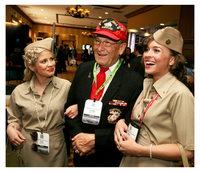 Amid the exhibits of state-of-the art space technology at the 27th National Space Symposium there was one exhibit designed to preserve the contributions of past heroes – World War II veterans.
"We were very honored to participate in such a prestigious event," said West Roberts, vice president of programs for The Greatest Generations Foundation. "The veterans were very impressed with the leaps and bounds of technological advancements that have been made since WWII, and thoroughly enjoyed speaking with everyone who came to visit our booth."
According to Roberts, The Greatest Generations Foundation (TGGF) is "…dedicated to honoring all veterans for their duty and dedication in securing the freedoms we enjoy today. Because so many of the men and women involved in WWII have struggled with memories of that conflict, TGGF offers them the opportunity to find closure and pass their stories on through the Foundation's Battlefield Remembrance Voyages and Connecting Generations Journeys. Through these programs, veterans are able to return to their fields of battle with comrades in arms and with college students. The students learn about the historic events of World War II by hearing the veterans' personal accounts of bravery and sacrifice during these events."
The Greatest Generations Foundation was started by Timothy Davis in 2004 after he returned from a commemoration ceremony in Normandy attended by only a small number of veterans. The charitable organization was formed in September, 2004, with Timothy Davis as president and CEO. In 2009, TGGF began incorporating students into programs as personal escorts for the veterans. TGGF programs operate at no cost to veterans.
See more information at www.tggf.us  
Pictured from left are Susan Beardslee, Joe Weinmeir and Alicia Harms, representing The Greatest Generations Foundations at the 27th National Space Symposium
This article is part of Space Watch: May 2011 (Volume: 10, Issue: 5).
---
Posted in Report from Headquarters