The View From Here
---
The View From Here: Doing the Hard Things
Written by: developer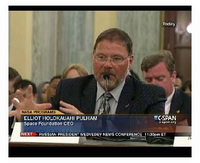 On May 18, I had the privilege of testifying before the United States Senate Committee on Commerce, Science and Transportation as a third-party, unbiased expert on the Contributions of Space to National Imperatives. I was joined by Frank Slazer, vice president of space systems for the Aerospace Industries Association, Dr. Christopher F. Chyba, professor of astrophysics and international affairs and director of the Program on Science and Global Security at Princeton University, and former NASA astronaut Capt. Frank L. Culbertson, Jr., USN (Retired).
With the future of the U.S. space program in the hands of politicians — some of whom really understand the benefits and, unfortunately, many who do not — this was an excellent opportunity to remind them — and America — why we need to invest wisely in robust and wide-reaching exploration of space and development of space assets — including rebuilding our human spaceflight programs.
Let me share a bit of what I told them — in hopes that you can help the Space Foundation with our crusade to bring some sense back to how the United States, views, funds and pursues space. The data I cite here is primarily from the Space Foundation's flagship publication — and the industry's top resource on space information – The Space Report; The Authoritative Guide to Global Space Activity.
Over the past six years, the global space economy grew a whopping 48 percent — from $164 billion in 2004 to $276 billion in 2010 — and the average annual industry growth rate increased from about 5 percent to nearly 8 percent last year.
Now, while government space activities continue to play a major role, the space economy is today predominantly commercial. Commercial satellite services and commercial satellite infrastructure together account for some $189 billion in 2010 — nearly 70 percent of total space activity.
Space is also very international. Of the 25 largest satellite communication companies in the world, only one is headquartered in the United States. Roughly three quarters of all commercial satellites are manufactured outside the U.S.
Global space employment has been stable over the past couple of years, with job increases in Japan, India, Germany and other nations offsetting job losses in the United States. The United States remains by far the largest government player, but, while government space spending around the world increased to $87.12 billion in 2010, the U.S. government space budget was flat at $64.63 billion. It doesn't take too much thinking to conclude that our lead is eroding.
In 2010, as the global economy continued to battle back from recession, the space industry actually gathered momentum. The commercial sector flourished, adding billions of dollars to the economy, and it's now expanding due to new government policies that encourage greater reliance on commercial providers, affecting both traditional aerospace companies and newer space actors seeking to develop technological capabilities.
Additionally, more countries are becoming involved in space or are revitalizing dormant space programs, with Australia, South Africa and Iran as recent examples. In many cases, these nations are also incorporating a deliberate commercial element that targets economic development and technology creation.
The role of civil space is evolving. The emergence of lower cost smallsats and cubesats is reducing barriers to entry, creating new avenues and opportunities for science and commercial applications. Commercial human spaceflight lets people experience space on a personal level and furthers public interest in space even for those who do not leave the ground. The growing engagement of society in space pursuits stirs our imagination and brings us closer together — researchers, scientists, business professionals and government officials — to explore the practically limitless opportunities that space promises.
Space products and services are an integral part of daily life, expanding each year into new areas of human activity. In one dramatic example, space technology and expertise helped rescue a group of Chilean miners trapped underground. This was but a single instance of how knowledge gained from human activity in the challenging environment of space can be applied to life on Earth.
In more commonplace situations, space applications help people communicate with each other and access entertainment as they travel by ground, sea or air. Satellite-enabled Internet connections are becoming commonplace as airlines outfit their fleets with the latest equipment. Navigation applications for cell phones can combine input from built-in cameras and GPS chips, enabling users to view directions as an overlay on an image of their surroundings. GPS tracking systems installed on racecars allow people to participate in virtual competitions against professional drivers during real racing events.
Whether during work or leisure hours, most people reap the benefits of space systems and technology as an integral part of their daily lives — often without even knowing space is involved.

The commercial sector continues to use space technology in manufacturing processes and products. Glass manufacturers incorporate techniques used in the analysis of data from the Hubble Space Telescope. Consumers can purchase clothing made from textiles originally developed for astronauts or style their hair with tools using nano-ceramic technology developed by NASA.
On a more global scale, satellites offer a unique perspective that helps explain the human relationship with the environment. From enabling forestry managers to track the spread of tree-destroying Rocky Mountain pine beetles to helping coordinate cleanup efforts after the Gulf of Mexico oil spill to monitoring the effects of the earthquake in Japan, satellite data is critical to managing natural resources and responding to manmade disasters.
Many governments, realizing that space technology is both a tool for carrying out their responsibilities and for generating economic growth, play an important role in developing new technologies by financing commercial companies, transferring government technology to the commercial sector and/or creating a supportive regulatory climate.
Canada, Germany, Israel, Japan and India are expanding space programs. The U.S. government is not. This is sad because today's robust commercial space industry has its origins in government space investment. DirecTV, Sirius/XM radio, ESPN and countless other satellite services are the grandchildren of America's Telstar program. Google Earth, satellite weather and commercial space imagery are descendants of the Corona spy satellite program. The U.S. aerospace industry, which by some estimates accounted for 50 percent of the new wealth generated in America between 1962 and 2002, built its muscle on government space programs like Mercury, Gemini, Apollo, the X-24A, the Space Shuttle and the International Space Station.
Space investment has spawned new technologies and new industries that could not even have been imagined when the investments were made. Doing things (to quote JFK when he set our goal for the Moon in 1962) "not because they are easy, but because they are hard" leads to the creation of new capabilities that, in turn, lead to entirely new industries.
Take, for example, the cordless tool industry. The industry was content to continue manufacturing longer and longer extension cords. But, NASA's unique need for tools on the Moon gave birth to a solution that no one had imagined; NASA contractor Martin Marietta hired Black & Decker and the rest is history. Today cordless power tools are manufactured in Maryland, North Carolina, South Carolina, Georgia, Mississippi, Tennessee, Arkansas and Texas — and increasingly in Japan, China and Europe.
This is the way that invention and discovery works, and this is why America's past investment in space programs has yielded such stupendous returns:
Because spacecraft needed a renewable source of energy on orbit, we have a solar power (photovoltaics) industry. 
Because NASA needed to accurately dock and undock spacecraft, we have precision guidance technology that enables LASIK eye surgery.
Because the Air Force required a precise global positioning system, GPS has become the fundamental underlying architecture for commerce, finance, logistics, inventory management, law enforcement, emergency services and personal navigation around the world.
Because NASA needed to power the Space Shuttle main engines, we have life-saving heart pump technologies.
None of these outcomes were expected. But, more than 40,000 new products are the result of our previous national investments in space.
Funding national space programs has also brought tremendous benefit to U.S. foreign policy and national security, both directly, and indirectly.
Leadership in space has been a leading contributor to American "soft power" since the dawn of the space age. Our entry into the space race is often seen only as a reaction to the Soviet Union's launch of Sputnik, but the doctrine behind it is worth remembering. JFK's Moon speech is often quoted for its inspirational and humanistic value. Less often quoted are the political and national security realities that America was coming to grips with: "The exploration of space will go ahead, whether we join in it or not . . . and no nation which expects to be the leader of other nations can expect to stay behind in this race for space. . . the vows of this nation can only be fulfilled if we in this nation are first, and, therefore, we intend to be first."

The mastery of space has always carried with it the not-so-subtle message to friend and foe: This is what we are capable of. You want to work with us. You want to be our friend. You want to follow our lead. You do not want to challenge us.
Whether our objective is to win the Cold War (Apollo), extend a hand in friendship (Apollo-Soyuz), motivate collaboration (Shuttle-Mir) or build a broad-based international community (ISS), the soft power of space programs is often one of our best foreign relations and national security tools.
Certainly, space programs have also been inextricably linked with "hard" power. The ability to observe other nations, share intelligence instantly around the world and, when necessary, to strike, depend upon space investments. All Americans know about the successful mission to get Osama Bin Laden. We may never know just how many space assets were used in the operation. While much of it remains secret, it may have involved such things as:
Satellite imaging of the compound
Satellite signal intelligence gathering
Stereoscopic satellite imaging to gather data for constructing mock-ups of the compound
GPS-powered precision navigation and timing
Secure satellite theater-level communications
Secure satellite strategic communications
Satellite weather forecasts and real-time data
Our national intellectual capacity — the brain power we can bring to bear on any problem, issue or challenge — is directly affected by our investment in national space programs. For example, as the Apollo program gained momentum, enrollment in graduate studies in science and engineering also grew. Since that time, it has waned.
Doing the hard things requires our best and brightest minds. Developing this intellectual capacity requires inspiring, challenging and exciting work to do. When America has made that investment, we have never failed to achieve our capacity for greatness.
 
This article is part of Space Watch: June 2011 (Volume: 10, Issue: 6).
---
Posted in The View From Here