Report from Headquarters
---
Feldman to Retire, AMF Mounts Search
Written by: developer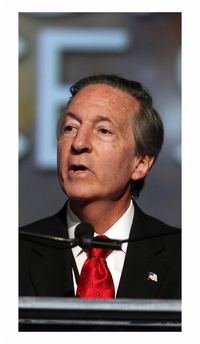 Astronauts Memorial Foundation (AMF) President and CEO Stephen Feldman, Ph.D., has announced that he plans to retire July 31, 2012, and that Mike McCulley, a former shuttle astronaut and former President and CEO of United Space Alliance, is chairing a search committee seeking his successor.
Feldman works closely with the Space Foundation on the Alan Shepard Technology in Education Award, which is annually presented by AMF, the Space Foundation and NASA to honor a K-12 educator for contributions to educational technology. Feldman traditionally presents the award, which last year went to Charles County Maryland Public Schools Superintendent James Richmond, and he anticipates that he will be at the 28th National Space Symposium next April to present the final award under his leadership
Since Feldman joined the organization 12 years ago, AMF has enhanced the exhibits at the National Space Mirror Memorial, expanded AMF's educational programs and strengthened the financial position of the foundation.
About AMF and the Executive Search
Founded in 1986 after the Space Shuttle Challenger accident and located at Kennedy Space Center in Florida, AMF's mission is to honor and memorialize those astronauts who have sacrificed their lives for the nation and the space program. This is accomplished by implementing innovative educational technology programs and by building and operating the National Space Mirror Memorial. AMF is a 501(c)(3) organization. Persons who are interested in the AMF president and CEO position must submit an application via email by Nov. 30, 2011, to [email protected]. For more information, click here.
Pictured: Dr. Alan Feldman speaks at the 27th National Space Symposium
This article is part of Space Watch: September 2011 (Volume: 10, Issue: 9).
---
Posted in Report from Headquarters