Space Foundation Press Releases
---
Author, Innovation Expert Mark Stevenson Headlines 2012 Space Technology Hall of Fame® Dinner
Written by: developer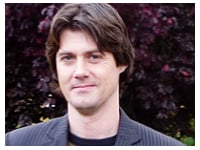 COLORADO SPRINGS, Colo. (Nov. 15, 2011) — London-based author, comedian and innovation expert Mark Stevenson will headline the annual Space Technology Hall of Fame® dinner on April 19, 2012, at the 28th National Space Symposium at The Broadmoor Hotel in Colorado Springs, Colo.
Stevenson's book, An Optimist's Tour of the Future, has been called "a coherent and entertaining journey through the world of future technology," topical and timely for the highly informed Space Technology Hall of Fame® audience.Released in January 2011, the book is a must-read for anyone apprehensive about what lies ahead. A meticulous researcher, Stevenson sifts concerns about new technologies from fear-mongering — offering up a balanced take on everything from nanotech 'grey goo' to worries about population and resource crises, pandemics, climate change and new forms of terrorism.
About Stevenson
Stevenson's early career saw him mixing two jobs: one writing for an IT industry think-tank and working as a cryptography consultant; and the other fronting a pop band, which enjoyed brief notoriety in Japan, France and, much to his surprise, Chile. Today he combines two other (more related) careers: one as a successful writer/comedian, writing for stage, radio and print; and another as a speaker and consultant on future narratives, institutional innovation, engineered serendipity and learning — working with everyone from schoolchildren to the boards of multinational corporations. His writing has appeared in numerous publications including The Times, The Daily Telegraph and The New Statesman. As a speaker he has been asked to address the Treasury Executive Institute, Google, Microsoft Research, Standard Chartered Bank, Skoll World Forum on Social Entrepreneurship and The Economist. Beyond this, he regularly speaks at universities and schools, as well as the occasional rock festival.
Stevenson is co-founder and director of Flow Associates, cultural engineers, and ReAgency, the science communication agency. In addition, he is special advisor to the African social network Bsmrt; sits on a 'board of friends' of Sir Richard Branson's Virgin Earth Challenge; is a fellow of the Royal Society for the Encouragement of Arts, Manufactures and Commerce; serves as Nibmaster General at the Ministry of Stories; and is a founding member of the League of Pragmatic Optimists.
According to Stevenson, his parents "still have no idea what he does."
Stevenson's voyage of discovery, chronicled in his recent book, took him to Oxford where he met transhumanists (who intend to live forever); to Boston where he confronted a robot with mood swings; to an underwater cabinet meeting in the Indian Ocean; and to Australia where he was insulted by the Outback's smartest farmer. He clambered around space planes in the Mojave Desert; "got to grips" with the potential of nanotechnology; delved deep into the possibilities of biotech; saw an energy renaissance on a printer; witnessed a revolution in communications; had his genome profiled; glimpsed the next stage of human evolution; and tried to make sense of what's in store.
"I'm not saying the future will be better," Stevenson says. "But, I do know there's everything to play for and I believe everyone of good conscience should be in that game."
Insightful and funny, Stevenson paints an enthralling portrait of our future and why it doesn't have to be scary.
About the Dinner
Presented annually by the Space Foundation as the final major event of the National Space Symposium, the Space Technology Hall of Fame® dinner honors extraordinary technologies originally developed for space that now improve life here on Earth. The 2012 recipients will be named early next year.
The dinner is known for its outstanding speakers, which over the past few years have included astrophysicist Neil deGrasse Tyson, Bill Nye the Science Guy®, actor Leonard Nimoy and political satirist P.J. O'Rourke.
About the Space Technology Hall of Fame®
Since 1988, the Space Technology Hall of Fame® has honored those who transform technology originally developed for space exploration into products and services that help improve the quality of life here on Earth. Dozens of technologies and hundreds of individuals and organizations have since been recognized. Visit www.SpaceTechHallofFame.org for more details.
About the 28th National Space Symposium
Presented by the Space Foundation, the 28th National Space Symposium offers presentations and panels covering all aspects of space, plus special events and presentation of several prestigious space-related awards.
The Symposium's top allure to participants — of which there were more than 9,000 in 2011 — is as a venue for networking and conducting meaningful business. Returning for 2012 will be the New Generation Space Leaders programs for young, up-and-coming space professionals, age 35 and younger.
The Symposium will be offered in conjunction with Cyber 1.2, which will examine the evolution of cyberspace. Separate registration is required for Cyber 1.2 and registration for both is available online at www.NationalSpaceSymposium.org. Industry attendees can save money by registering before Jan. 13.
28th National Space Symposium Co-Sponsors
Confirmed co-sponsors include: Analytical Graphics, Inc. (AGI); ATK; Ball Aerospace & Technologies Corp.; Blue Ridge Networks; Maui Economic Development Board (MEDB); Moog; Northrop Grumman; Pratt & Whitney Rocketdyne; Raytheon; SES Government Solutions. Aviation Week and Space News are the official media partners. Sponsorship information can be found at: www.NationalSpaceSymposium.org.
About the Space Foundation
The foremost advocate for the space industry and an expert in all aspects of space, the Space Foundation is a global, nonprofit leader in space awareness, educational programs that bring space into the classroom and major industry events, including the National Space Symposium, all in support of its mission "to advance space-related endeavors to inspire, enable and propel humanity." The Space Foundation publishes The Space Report: The Authoritative Guide to Global Space Activity and provides three indexes that track daily performance of the space industry. Through its Space Certification and Space Technology Hall of Fame® programs, the Space Foundation recognizes space-based technologies and innovations that have been adapted to improve life on Earth. Founded in 1983 and headquartered in Colorado Springs, the Space Foundation conducts research and analysis and government affairs activities from its Washington, D.C., office and has a field office in Houston, Texas. For more information, visit www.SpaceFoundation.org. Follow us on Facebook, LinkedIn and Twitter, and read about the latest space news and Space Foundation activities in Space Watch.
Pictured: Mark Stevenson
---
Posted in Space Foundation Press Releases