Report from Headquarters
---
The Wonderful World of the Internet
Written by: developer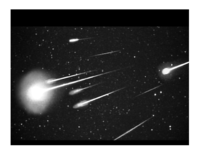 Space enthusiasts know the Internet is a valuable resouce for all kinds of space information – from the scientifically complex to the topical and timely. Here are some interesting sites and snippits to satisfy even the the most insatiable spaceophile!
Know any great Internet space resources? Follow us on Facebook and post them there or email them to [email protected] for potential inclusion in this article.
Pictured: A NASA photo of the 1999 Leonid meteor storm
This article is part of Space Watch: December 2011 (Volume: 10, Issue: 12).
---
Posted in Report from Headquarters