Space Foundation Press Releases
---
Top Launch Company Presidents Will Speak at 28th National Space Symposium
Written by: developer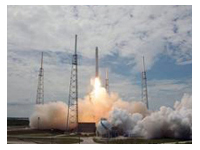 COLORADO SPRINGS, Colo. (Dec. 5, 2011) — The Space Foundation has assembled a dynamic panel for the first morning of its 28th National Space Symposium featuring presidents of leading launch companies.
The panel, "Launch Providers, Propulsion Partners and the Way to Space," includes: Francis X. McKenna, president, International Launch Services; James Maser, president, Pratt & Whitney Rocketdyne (PWR); Clayton Mowry, president, Arianespace Inc.; Scott J. Seymour, president and CEO GenCorp, and president of Aerojet; and Gwynne Shotwell, president, SpaceX
About the 28th National Space Symposium
The 28th National Space Symposium will be held April 16-19 at The Broadmoor Hotel in Colorado Springs, Colo. The Symposium is offered in conjunction with a separate Space Foundation event, Cyber 1.2, which will be held during the day on April 16 at The Broadmoor Hotel, immediately preceding the Symposium's opening ceremony. Register for both to receive a substantial discount at www.NationalSpaceSymposium.org. The secure online registration page includes a live chat tab for customer service questions, and a Super Early Bird discount for industry attendees is available until January.
28th National Space Symposium and Cyber 1.2 Co-Sponsors
Confirmed co-sponsors include: Analytical Graphics, Inc. (AGI); Arianespace, Inc.; ATK; Ball Aerospace & Technologies Corp.; Blue Ridge Networks; The Boeing Company; General Dynamics; International Space University (ISU); Lockheed Martin; Maui Economic Development Board (MEDB); Moog; Northrop Grumman; Pratt & Whitney Rocketdyne; Raytheon; SES Government Solutions; Space Generation Advisory Council; Space Systems Loral; SpaceX; Stellar Solutions. Aviation Week and Space News are the official media partners. Sponsorship information can be found at: www.NationalSpaceSymposium.org.
About the Space Foundation
The foremost advocate for the space industry and an expert in all aspects of space, the Space Foundation is a global, nonprofit leader in space awareness, educational programs that bring space into the classroom and major industry events, including the National Space Symposium, all in support of its mission "to advance space-related endeavors to inspire, enable and propel humanity." The Space Foundation publishes The Space Report: The Authoritative Guide to Global Space Activity and provides three indexes that track daily performance of the space industry. Through its Space Certification and Space Technology Hall of Fame® programs, the Space Foundation recognizes space-based technologies and innovations that have been adapted to improve life on Earth. Founded in 1983 and headquartered in Colorado Springs, the Space Foundation conducts research and analysis and government affairs activities from its Washington, D.C., office and has a field office in Houston, Texas. For more information, visit www.SpaceFoundation.org. Follow us on Facebook, LinkedIn and Twitter, and read about the latest space news and Space Foundation activities in Space Watch.
---
Posted in Space Foundation Press Releases