Space Foundation Press Releases
---
AGI Adds Certified Educational Product Partner to its Space Foundation Space Certification Credentials
Written by: developer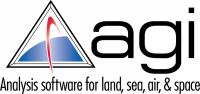 COLORADO SPRINGS, Colo. (Jan. 12, 2012) — The Space Foundation welcomes STK software by Analytical Graphics, Inc., (AGI), as its newest Certified Educational Product partner. Already a Certified Space Technology, STK has been added to the Certified Educational Product category in recognition of its use for student and teacher education programs at the AGI Space Missions Simulator at the Space Foundation Discovery Institute (SFDI) in Colorado Springs.
Engineers and analysts use STK to model complex systems (space, aircraft, missile defense, ISR and electronic systems), along with sensors and communications, in the context of space, defense and intelligence missions. Through integrated visualization, STK brings a clear understanding of system behavior and performance measured against mission objectives.
AGI's Educational Alliance Program provides eligible academic institutions free licensing and certification testing of STK software for instructional purposes. These resources give students hands-on experience with the same industry-leading software used by more than 40,000 space, defense and intelligence professionals worldwide.
In 2010, AGI, headquartered in Exton, Pa., donated software, including STK, licensing and new computer equipment valued at more than $3 million to establish the SFDI education lab, which simulates launch, flight and landing of a variety of space missions. The lab allows students and teachers to learn about satellite orbits, design their own satellite orbits, track their satellites and help plan a simulated return mission from Mars.
The lab plays an important role in Space Foundation education programs, which focus on science, technology, engineering and mathematics (STEM), helping to address serious gaps in U.S. science and math education and proficiency.
About Certified Educational Products
Certified Educational Products are selected by the Space Foundation and identified as those used in educational environments to stimulate interest and knowledge about space. Education is key to the mission of the Space Foundation and supporting these products inspires each new generation.
For more information, go to www.SpaceConnection.org.
About Space Certification
Products and services that display the Space Certification™ seal are guaranteed to have stemmed from or been dramatically improved by technologies originally developed for space exploration or to have significant impact in teaching people about the value of space utilization. Developed and administered by the Space Foundation, the world's foremost advocate for all sectors of the space industry, the Space Certification program serves three purposes:
Providing a unique marketing edge for Space Certification partners
Demonstrating to the public how space technologies now improve life on Earth
Making space knowledge more interesting and accessible to everyone  
There are three classifications of Space Foundation Certified Products:
Certified Technology Products – Products or services that directly result from space technology or space program development or advances in space technology
Certified Educational Products – Products used in educational environments to stimulate interest in and knowledge about space
Certified Imagination Products – Entertainment products, games or toys that increase interest in and excitement for space and inspire new generations to take an active interest in space
Space Certification products and services have been scrutinized by the Space Foundation, which works closely with NASA, the European Space Agency (ESA) and other organizations engaged in space research and development to identify and validate that they are eligible for and deserving of recognition.
About the Space Foundation
The foremost advocate for the space industry and an expert in all aspects of space, the Space Foundation is a global, nonprofit leader in space awareness,educational programs that bring space into the classroom and major industry events, including the National Space Symposium, all in support of its mission "to advance space-related endeavors to inspire, enable and propel humanity." The Space Foundation publishes The Space Report: The Authoritative Guide to Global Space Activity and provides three indexes that track daily performance of the space industry. Through its Space Certification and Space Technology Hall of Fame® programs, the Space Foundation recognizes space-based technologies and innovations that have been adapted to improve life on Earth. Founded in 1983 and headquartered in Colorado Springs, the Space Foundation conducts research and analysis and government affairs activities from its Washington, D.C., office and has a field office in Houston, Texas. For more information, visit www.SpaceFoundation.org. Follow us on Facebook, LinkedIn and Twitter, and read about the latest space news and Space Foundation activities in Space Watch.
---
Posted in Space Foundation Press Releases