Report from Headquarters
---
NASA'S Jet Propulsion Laboratory Loans Huygens Probe Model to Space Foundation Visitors Center
Written by: developer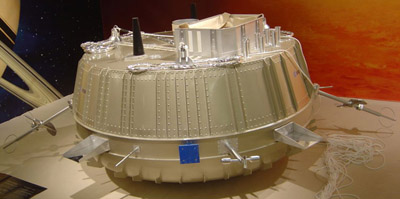 NASA's Jet Propulsion Laboratory (JPL) is providing a full-scale model of the European Space Agency's Huygens Probe, part of the international Cassini-Huygens mission to Saturn, on long-term loan to be put on display at the Space Foundation's world headquarters at 4425 Arrowswest Drive in Colorado Springs, Colo. The actual probe was carried to the Saturn system by NASA's Cassini spacecraft and plunged through the atmosphere of the moon Titan on Jan. 14, 2005.
"The Cassini-Huygens mission has revealed extraordinary information about the outer solar system and illustrates the kind of internationally cooperative space exploration that is revealing the Universe to us," said Space Foundation Chief Executive Officer Elliot Pulham. "We are thrilled JPL added this wonderful piece to our collection."
"The Space Foundation has a long history of supporting education and outreach as well as advocating the NASA mission of space exploration. In that regard, we are happy to provide this example of how JPL and NASA worked with ESA to collect science information from a moon of Saturn," said JPL Deputy Director Gen. Eugene Tattini. "The more space hardware models we can show to students, the more likely they will be to pursue studies in STEM (science, technology, engineering and math) subjects."
The Space Foundation, which moved into spacious new headquarters in July 2011, has been actively collecting artifacts and fundraising for a visitors center, which will open in phases over the next several years. The visitors center will include the recently announced Northrop Grumman Science Center featuring Science On a Sphere®, a teaching auditorium, a Space Technology Hall of Fame® and displays of space artifacts and models. While not initially open to the public except for private visits and tours, the visitors center will eventually become a Colorado Springs tourist destination. A formal public debut of the first phase is planned for this fall.
About the Huygens Probe Model and Cassini
NASA's Cassini spacecraft, with ESA's Huygens probe bolted to its side, was launched in 1997 toward the Saturn system. In December 2004, towards the end of Cassini's third orbit around Saturn, the Huygens probe was ejected on a 22-day cruise to Saturn's largest moon, Titan. When it reached Titan on Jan. 14, 2005, it became the first man-made object to land on a world in the outer solar system. The parameters of the clock that had to wake-up the probe a few hours before entry were loaded on board Huygens via Cassini on Dec. 21, 2011, four days before separation. Cassini took a few pictures of Huygens days after separation. The last picture, taken on Dec. 27, confirmed that Huygens was well on target. One of the most mysterious objects in our solar system, Titan is the second largest moon and the only one with an atmosphere that resembles that of a very young Earth.
The probe itself had two parts: an Entry Assembly Module comprising the heat-shield that acted as a brake and as thermal protection; and a Descent Module that contained the scientific instruments and three different parachutes used to manage descent. Huygens equipment that received the probe radio signal during its descent remained on board Cassini.
An exceptionally sturdy design, the Huygens heat-shield was carbon-coated with specially-designed tiles that were designed to withstand temperatures of up to 1,800°C. Temperatures up to 1,500 °C were expected in the shock that formed in front of the heat-shield during entry as Huygens traveled through Titan's thick methane-rich, nitrogen gas atmosphere. The heat-shield, which was designed to protect the delicate instruments inside, was almost nine feet in diameter and weighed about 200 lbs. The probe itself in its entry configuration weighed about 700 lbs. Science equipment on board included an aerosol collector pyrolyser, a descent imager and spectral radiometer, a Doppler wind experiment, a gas chromatograph and mass spectrometer, an atmospheric structure instrument and a surface science package.
The Cassini program is a cooperative effort of NASA, the European Space Agency (ESA) and the Italian space agency, Agenzia Spaziale Italiana (ASI), as well as several European academic and industrial contributors. Development of the Huygens Probe was managed by a project team based at ESA's European Space Technology and Research Center (ESTEC). ESA's Huygens prime contractor was Aerospatiale (now Thales Alenia Space-France) in Cannes, France. It coordinated a team of about 40 different subcontractors and equipment suppliers from all over Europe, including a few U.S. equipment suppliers. Huygens was assembled and tested by DASA (now Astrium, Germany) in Ottobrun, near Munich. Huygens' batteries and two scientific instruments came from the United States. Operations for the Huygens probe were managed by the Huygens Probe Operations Center (HPOC) in ESA's European Space Operations Center (ESOC), Darmstadt, Germany. Mission and science operations for the Cassini orbiter are managed by the Jet Propulsion Laboratory, Pasadena, Calif., for NASA's Science Mission Directorate, Washington, D.C.
The probe is named after Christiaan Huygens (1629-1695), a Dutch scientist who discovered Titan in 1655 and also discovered the true nature of Saturn's rings.
To see photos of the Space Foundation's artifacts, go to www.spacefoundation.org/about/world-headquarters/space-foundation-collection.
This article is part of Space Watch: July 2012 (Volume: 11, Issue: 7).
---
Posted in Report from Headquarters