Space Symposium
---
Smash Mouth will Launch 29th National Space Symposium Opening Ceremony
Written by: developer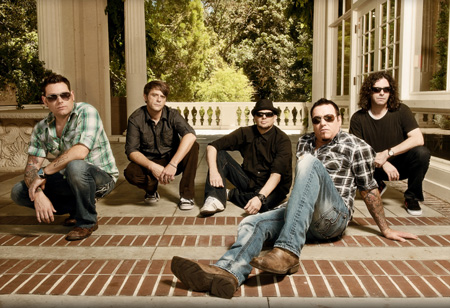 The Space Foundation's annual Space Symposium is noted for its spectacular opening ceremony and dramatic musical performances.
The 2013 opening ceremony, sponsored by Northrop Grumman, will live up to that reputation with a performance by the band Smash Mouth.
Collectively, the band Smash Mouth has sold more than 10 million albums worldwide. Its songs include the number one hits Walkin' on the Sun and All Star, as well as Then the Morning Comes, Can't Get Enough Of You Baby and a cover of The Monkees classic I'm a Believer.
The opening ceremony kicks off the 29th National Space Symposium and includes presentation of prestigious awards for technology in education, public outreach, space achievement and space exploration. Details about the Space Symposium, including speakers and agenda, can be found at www.NationalSpaceSymposium.org.
About the Space Symposium
With more than 9,000 expected participants, the Space Symposium is the premier annual gathering of the global space community. Scheduled for April 8-11 at The Broadmoor Hotel in Colorado Springs, Colo., the Space Symposium will bring together all sectors of the space industry to highlight accomplishments and address opportunities and issues.
Returning for 2013 will be the New Generation Space Leaders Program for young, up-and-coming space professionals, age 35 and younger. See more on the Space Symposium website www.NationalSpaceSymposium.org.
The Space Symposium is offered in conjunction with a separate Space Foundation event, Cyber 1.3, to be held during the day on April 8.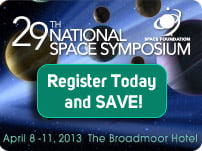 Register securely at www.NationalSpaceSymposium.org/register, which includes a live chat tab for customer service questions.
The registration rate for active duty military and government personnel has been lowered to 2010 pricing, now $790 for the four-day Space Symposium. Industry attendees can take advantage of an Early Bird rate by registering by March 15.
This article is part of Space Watch: February 2013 (Volume: 12, Issue: 2).
---
Posted in Space Symposium