Public Policy and Government Affairs
---
Space Foundation Participates in Space Sustainability Conference
Written by: developer
The Space Foundation, American Association for the Advancement of Science (AAAS), and Secure World Foundation (SWF) teamed up to host a luncheon and panel discussion on Capitol Hill on Feb. 20 to address the importance of sustainability in outer space. The briefing was a reminder for policy makers that the United States relies upon space for a variety of essential daily services.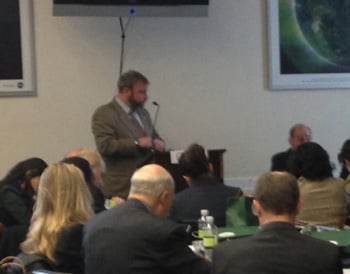 Speakers discussed space challenges, including budget uncertainty, as well as space itself becoming more congested, contested and more competitive. Speakers, who looked at this situation from national security, legal, political and commercial perspectives, included:
Brendan Curry (moderator), vice president of Washington Operations, Space Foundation (pictured right)
Patricia Cooper, president, Satellite Industry Association (SIA)
Henry Hertzfeld, Ph.D., research professor, Space Policy Institute, Elliot School of International Affairs, The George Washington University
David Turner, deputy director, Office of Space and Advanced Technology, U.S. Department of State
Col. Anthony Mastalir, USAF, chief, Space and Missile Defense Division, Strategic Plans and Policy Directorate, U.S. Joint Staff (J-5)
This article is part of Space Watch: March 2013 (Volume: 12, Issue: 3).
---
Posted in Public Policy and Government Affairs