Second View
---
Improving Our Lives on Earth Through Space
Written by: developer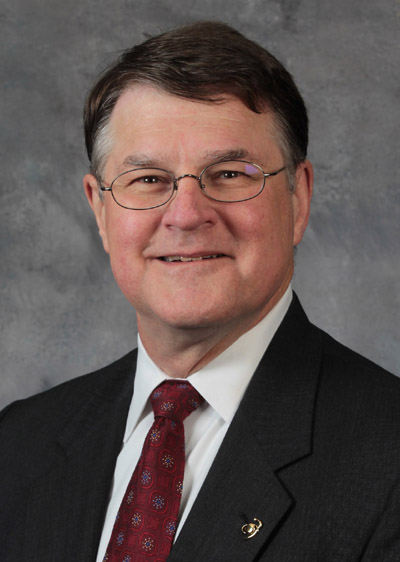 This month's Second View is by Space Foundation Vice President – Operations Art Ratkewicz.
Sometimes progress is measured laterally, not just vertically.
This "spread" of technological development occurred to me after remembering a talk with one of my grandmothers. She was awestruck by the advances she had witnessed, from the first automobiles taking to the roads, to airplanes soaring overhead, to Neil Armstrong and Buzz Aldrin walking on the moon.
I grew up with the space program and watched in awe as we aimed satellites and humans at the stars. My grandmother always reminded me it was people who made advancements happen in her day, and so it is today, and will be tomorrow.
But not every advancement is an obvious "next step." Thanks to people with the imagination to envision wider uses for existing technology, progress can wend its way through our lives in less obvious ways.
One of our objectives at the Space Foundation is space awareness, making people aware of what our investment in space brings to us on Earth. I may not have seen the technological span my grandmother witnessed during her lifetime, but I believe we are just starting to explore the potential of space and the benefits space technology can bring us on Earth.
Over the course of my professional career I have been a builder, policymaker and power-user of space assets and products. As a manufacturing manager for a large defense contractor, I led a team that built an Infrared (IR) scanner for a classified program. It turned out to be for a weather satellite that became critical to the development of the IR technologies used today.
I had the opportunity to impact policy on several classified space programs and provided user input that improved the end product. As a power user of space-based imagery, communications, navigation and emergency-warning systems, I was able to protect the troops serving with me, and provide decision makers with key information they required.
The common denominator in all these projects was the people who helped make them possible.
Early in my Air Force career, U.S. government systems provided most of the imagery, navigation aids and communications capabilities I needed. Over the past ten years, however, there's been a dramatic shift to the use of commercial and civil assets for imagery, navigation and, to an even greater extent, communications.
This spread of space-based capabilities from nearly 100 percent government-owned to a mix of commercial, civil and military resources has benefited humankind. Beyond improved communications worldwide, we've expanded commercial navigation via the Global Positioning System (GPS) and boosted crop yields with improved multispectral imagery that aids planting and harvesting.
And its people – entrepreneurs, engineers, designers, machine operators, marketers, satellite operators, dreamers – who have taken the lead in many areas that in the past were reserved for government-run programs.
These people are using satellites funded by governments and private companies, stretching what we thought these platforms could do, and developing a stream of new ways to utilize space-based assets. The best example is how integrated GPS is in our daily lives, helping make people aware of space and what it brings to them.
Here in Colorado Springs, the Space Foundation Discovery Center will soon finish its first ten-week Summer of Discovery. We've shared with our many visitors exhibits tracing the linear advance of space exploration, from early rocket engines, to a Gemini-era mission-control station, to replicas of contemporary satellites
But we've also stressed the spread of space-based technology, with examples of drones, for example, and even demonstrations of the space program's ability to help us understand climate and ecology.
Our focus is always on how space impacts our lives and how we've benefited from investments in space. But there's another message, one my grandmother would surely recognize: technology is about people, and showing people how important space technology is to their lives is as important as launching the next satellite.
As vice president – operations, Art Ratkewicz oversees facilities administration for all Space Foundation locations, including its world headquarters. He also oversees customer service, information technology systems and support and all logistical aspects of Space Foundation events, including the annual Space Symposium. Ratkewicz joined the Space Foundation in 2010 as manager – cyber initiatives, and was promoted to senior director – operations in 2011. His previous experience includes project management with Booz Allen Hamilton and a number of senior-level intelligence and information operations positions with the United States Air Force, the U.S. Strategic Command, U.S. Forces Korea and Air Force Space Command. He also held a number of human resources, site management and manufacturing positions with Atmel Corporation and Texas Instruments. Ratkewicz earned a Bachelor of Arts degree in history from the United States Air Force Academy and a Masters in Business Administration from the University of Dallas.
This article is part of Space Watch: August 2013 (Volume: 12, Issue: 8).
---
Posted in Second View