International Affairs
---
Counsel General of Mexico in Denver Visits Space Foundation
Written by: developer
In April, the Space Foundation hosted the Counsel General of Mexico in Denver, Carlos J. Bello, and members of his staff. Bello was designated by the President of Mexico, Enrique Peña Nieto, and ratified by the Mexican Senate on 2013 as Consul General of Mexico in Denver with jurisdiction over the states of Colorado, eastern part of Wyoming and eastern part of Montana. He assumed his duties in Denver just two months ago.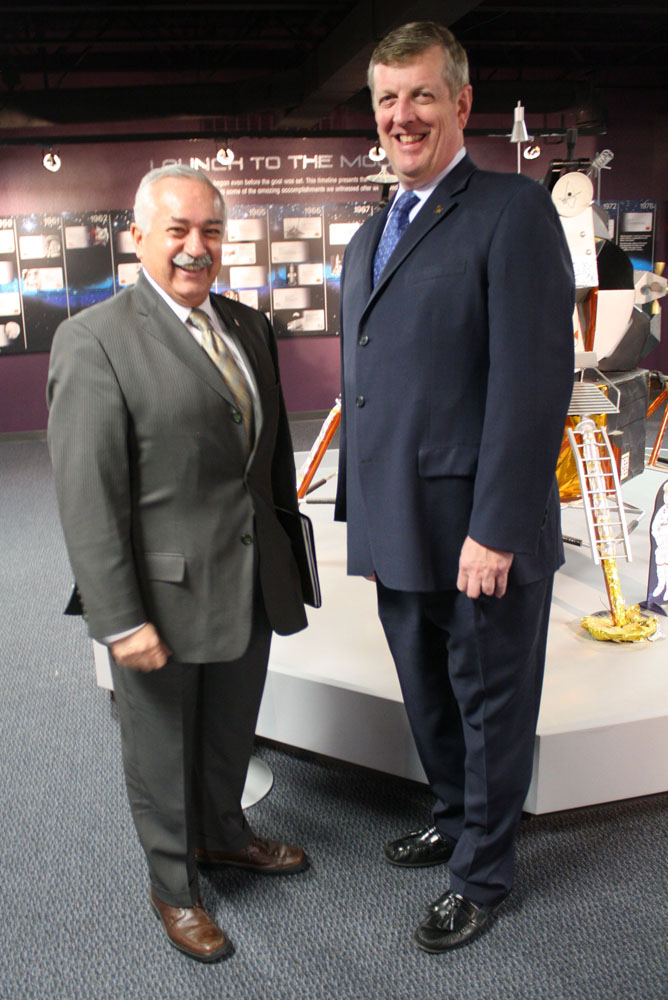 From May 2008 to August 2013, Bello was the General Director of the Mexican Federation of Aerospace Industries (FEMIA), where he helped make the industry one of the fastest growing in Mexico. It is now considered as a strategic industry in the country for its high levels of technological innovation and competitiveness and as a leader in research and development.
His visit included a briefing on the Space Foundation and activities, a tour of the Discovery Center, a demonstration of the Northrop Grumman Science On a Sphere®, the AGI Space Missions Simulation Laboratory and Mars Robotics Laboratory, and private discussions.
Topics included 30th Space Symposium participation, Space Foundation initiatives in Central and South America, and potential trade and corporate engagement. He also had the opportunity to view our education team working a program with visiting students in the Discovery Center.
Pictured: Counsel General of Mexico in Denver Carlos J. Bello with Space Foundation Senior Vice President – Strategic & International Affairs Steve Eisenhart in the Space Foundation Discovery Center in Colorado Springs
This article is part of Space Watch: May 2014 (Volume: 13, Issue: 5).
---
Posted in International Affairs