Education
---
Space Foundation Takes New Horizons to Wyoming
Written by: developer
The Space Foundation recently took its popular New Horizons community program to elementary students in Casper, Wyoming. Bryan DeBates, Director-Education, and Elias Molen (pictured), Space Education Specialist, spent three days in Casper visiting schools to conduct space-based programs.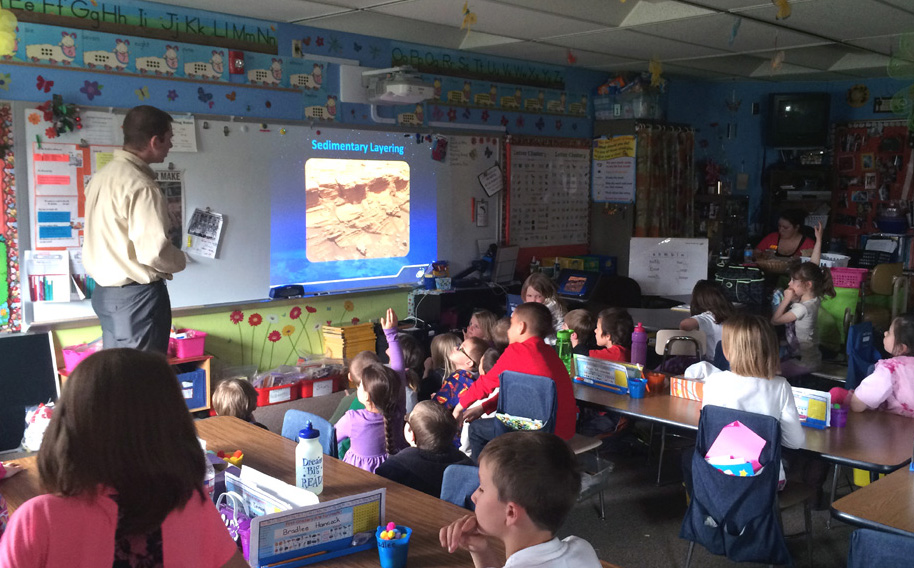 In just three days the pair conducted hands-on programs in astronomy and rocketry to more than 1,100 elementary students. The students, ranging from kindergarten to 6th grade, created solar system bookmarks, made scale-size solar systems from Play-Doh, marked out a 100-foot Solar System and built and launched rockets.
The elementary schools in the Natrona County School District that benefitted from the program were: Grant, Park, Pineview, Oregon Trail, Crest Hill and Bar Nunn. In addition to the programs at the elementary schools, DeBates and Molen conducted a teacher workshop for district teachers at Grant Elementary and a program for children at the Boys and Girls Club.
The New Horizons program was organized by Space Foundation Teacher Liaison Michele Wistisen who is the Casper Planetarium supervisor. Wistisen along with planetarium tech, ShiAnne Kattner, who is also a Teacher Liaison, conducted space-based activities at the schools, as well making the experience unforgettable for the students.
Read more about the Space Foundation's STEM education outreach, New Horizons and Teacher Liaisons here.
This article is part of Space Watch: May 2014 (Volume: 13, Issue: 5).
---
Posted in Education