The View From Here
---
Embracing it All
Written by: developer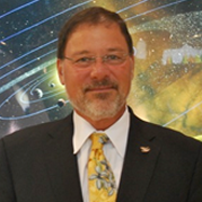 If all you know about the Space Foundation is what you see during the annual Space Symposium, you've certainly seen us at our best — but you've also only seen the tip of the iceberg. Looking back at just the past three weeks, I'm in awe of our team — which continues to "punch above its weight class" on behalf of the global space community.
My own schedule had me in London for space-related events surrounding the biannual Farnborough Air Show. Beginning with the Royal United Service Institute (RUSI) Global Air Chief's Conference, and wrapping up with my dinner speech for Rockwell Collins at the Royal Aeronautical Society, the specialized circuit of space related events — which plays as a subtext to the Airbus-Boeing slobberknocker south of town — included a Space Day event at Farnborough, and the return of our Space Foundation US-UK Space Partnership Dinner, sponsored by Lockheed Martin.

With the continued surge in activities by the UK Space Agency (the start of work to identify a potential commercial spaceport site within the UK was announced), a growing space contingent at the air show, growth of companies like Surrey Satellite and the announcement by Lockheed Martin of the creation of a new UK space business unit headquartered near Oxford, our partnerships in the UK have never been more important, and you can count on the Space Foundation to remain closely engaged with our special friends in this part of the world.

But pursuit of our Mission To advance space-related endeavors to Inspire, Enable and Propel Humanity, has taken us to many other interesting places since the July 4th holidays:

GLOBALCAST TO PUNE, INDIA
Our education and discovery team conducted a GlobalCast distance delivered education program from the Northrop Grumman Science Center for school principals in Pune, India, on July 15. The GlobalCast session lasted about an hour, and featured our Teacher Liaison program, our distance learning education program using Science on a Sphere® and the GPM mission. Some 90 principals from across Maharashtra participated. Our team has learned a lot in the last six months of developing this technology-driven outreach program, taking sphere programs to the United Kingdom and India, plus 10 U.S. states including Alaska and Hawai'i.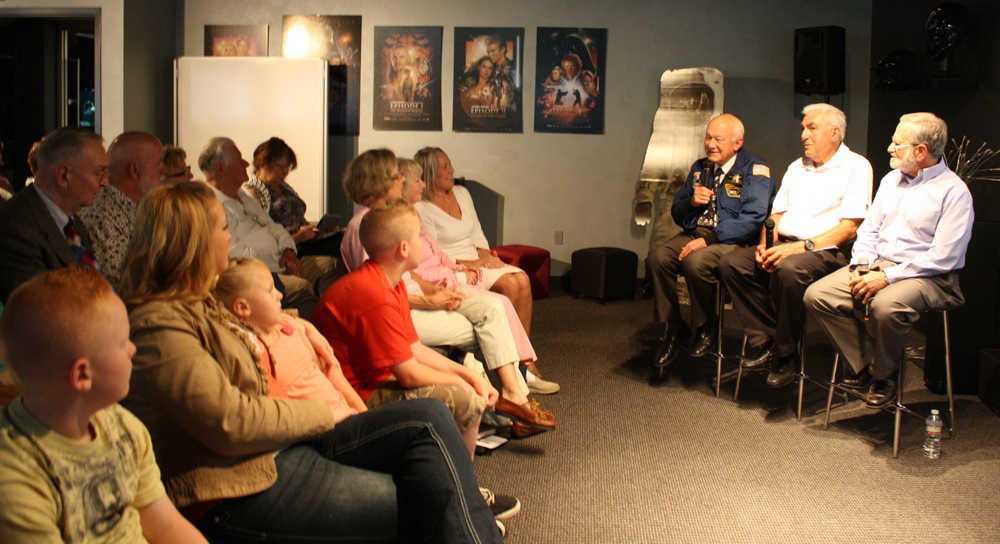 APOLLO 11 PROGRAM
As part of our Summer of Discovery (at the Space Foundation Discovery Center in Colorado Springs), we held a community event to remember the Apollo 11 mission on its 45th anniversary, with guests of honor CAPT Bruce McCandless, (USN, Retired), former NASA astronaut; Marlowe Cassetti, former executive with NASA, McDonnell Douglas and Boeing; Lou Ramon, former NASA employee in Flight Crew Operations and Mission Operations Directorates. Our team welcomed a full house for this very special event.

BESTSELLER BOOK NIGHT
We had another full house for Sally Ride Night at the Discovery Center with Lynn Sherr, author of Sally Ride: America's First Woman in Space. We had a wonderful turnout for Lynn's book signing and presentation, and we enjoyed having her share memories of Sally and reflect on Ride's impact on history with us. Probably most appropriate, and I know Sally would have approved, the evening with the author came as the concluding event of Girls' STEM Education Day at the Discovery Center.

EDUCATION TEAM DEPLOYED: ADAMS STATE UNIVERSITY
Members of our ace education team (Bryan DeBates, Elias Molen, Jami Sunkel and Chrys Rheinbolt) along with geologist and Space Foundation Teacher Liaison Jay Temple, deployed for two weeks to the southern part of Colorado for English Language Learners (ELL) programs conducted under contract to Adams State University. These are your tax dollars (National Science Foundation) being put to really good use, using space themes to inspire, enable and propel teachers working in some of the most challenged rural areas of the country.

EDUCATION TEAM DEPLOYED: CHARLES COUNTY MARYLAND
At the other end of the spectrum, our entire education team — along with Special Advisor-Human Space Flight Dr. Leroy Chiao — are now on site in Charles County, Maryland, conducting four Space Across the Curriculum programs for this progressive school district outside the nation's capital. This year's Space Foundation Luncheon was an extra special part of the grand opening of the James E. Richmond Science Center. We were pleased to have Christos Michalopoulos, Deputy Director for K-12 & Informal Education, NOAA, join us to cut the ribbon on this remarkable science facility, which includes a Science on a Sphere lab and was inspired by the nearly decade-long partnership that we have enjoyed with Charles County Public Schools.

HOUSE SCIENCE, SPACE & TECHNOLOGY COMMITTEE
Just last week the Space Foundation was front and center as the House Committee on Science, Space & Technology had a special meeting where NASA astronauts Dr. Steve Swanson — Commander, Expedition 40, and CDR Reid Wiseman (USN) — Flight Engineer, Expedition 40, were "beamed in" to the committee hearing room to address Members of Congress and field questions. Some 30 Members of Congress participated. Immediately following the downlink from the ISS, Space Foundation Vice President-Washington Operations, Brendan Curry, moderated a panel discussion on ISS research and utilization. Brendan introduced Space Subcommittee Chairman Steve Palazzo (R-MI) and Ranking Member Donna Edwards (D-MD), then moderated a panel featuring:
Greg Johnson, President & Executive Director, CASIS
Dr. Jeffrey Sutton, CEO & Institute Director, NSBRI
Dr. Marshall Porterfield, Director of NASA Life & Physical Sciences
CONGRESSIONAL BRIEFINGS, SLS AND ORION
The very next day, our Washington, D.C., team supported two Congressional briefings that provided program updates on SLS and ORION. Working with the Coalition for Space Exploration and our corporate members Aerojet-Rocketdyne, ATK, Boeing and Lockheed Martin, the Space Foundation engaged with both House and Senate staff; provided welcoming remarks; and introduced panel moderator, Charlie Precourt. The SLS and Orion teams provided New Generation Space Leaders to put young, enthusiastic/passionate engineering faces to these programs.


SUMMER OF DISCOVERY
In addition, our team has fielded a variety of special programs at the Space Foundation Discovery Center during our second Summer of Discovery — everything from squid dissection to rocket launches! Our themes this year have included Oceans, Astronomy, Mars, Rovers & Robots, Rocketry and A Taste of Space Technology, which brings the Summer of Discovery to a conclusion. On August 1, we are hosting pioneering private space explorer Anousheh Ansari; Ms. Ansari will be on hand to unveil her official astronaut portrait, which will be on long-term loan for display in our El Pomar Space Gallery. The Summer of Discovery comes to a close on August 16 with the decidedly adult-themed "Rocket in My Beer" event, featuring Colorado's leading specialty beer brewers. (If you're looking for the space connection, it can be found in the Colorado Beer Drinkers Guide, a space-inspired publication that uses GPS coordinates to locate every craft brewer in the state.)

Not bad for three weeks in the "slow season." The View From Here is that there are countless ways to advance our mission To advance space-related endeavors to Inspire, Enable and Propel Humanity. We embrace them all!
This article is part of Space Watch: August 2014 (Volume: 13, Issue: 8).
---
Posted in The View From Here