International Affairs
---
Space Foundation Leads U.S. World Space Week Celebration Oct. 4-10
Written by: developer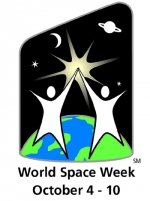 The Space Foundation is taking the lead in promoting and supporting World Space Week in the United States. The theme for World Space Week 2014 is "Space: Guiding Your Way," highlighting the benefits of satellite navigation to society.
The Space Foundation signed a Memorandum of Understanding (MOU) with World Space Week Association (WSWA) this year for continued collaboration and promotion between the two organizations. WSWA is a non-government, non-profit, non-membership organization led by volunteers from around the world, and supports the United Nations in the global coordination of World Space Week each year.
World Space Week was launched by the United Nations General Assembly in 1999 with the purpose of celebrating every Oct. 4-10 "the contributions of space science and technology to the betterment of the human condition."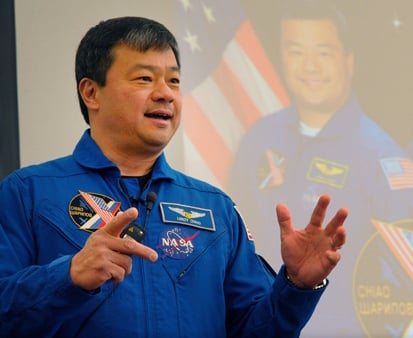 Events
On Oct. 4, the Space Foundation will launch its World Space Week celebration with a full day of special rocket-themed activities at its Discovery Center "Star Days" event, open to the public 10:00 a.m. – 5:00 p.m. Hands-on activities will help teach some of the basic principles of rocketry.
A Denver World Space Week event on Oct. 6 is hosted by nonprofit humanitarian space agency (and Space Foundation friend) SpaceUnited. "Space Trivia Night" will be held at Denver's The Gin Mill, beginning at 6:00 p.m. The entry fee is $5 per person, 21 years and older.
Oct. 9 is "To Be an Astronaut Day" at the Space Foundation Discovery Center in Colorado Springs, giving the public the opportunity to meet and pose for photos with former NASA astronaut Dr. Leroy Chiao (pictured), 2:00 – 3:00 p.m. and 5:00 – 6:00 p.m.
The day will also feature the showing of two films in the Discovery Center:
the premiere of the Science On a Sphere® film A Pale Blue Dot, with a live Google Hangout with the film's producer Victoria Weeks
showing of David J. Ruck's documentary I want to be an Astronaut, which examines the current state of America's space program and a boy's quest to become an astronaut
Also on Oct. 9, the Space Foundation education team will conduct GlobalCasts with more than 1,000 students around the world, when Dr. Chiao shares with them his experiences in space. The GlobalCasts will use the Space Foundation's unique teaching tool Science On a Sphere® to illustrate Chiao's presentations to students in six U.S. states — Alaska, California, Colorado, Idaho, Illinois and New York — and with two schools in Pune, India.
On Friday, Oct. 10, the global celebration of World Space Week will conclude locally in Colorado Springs when more than 250 elementary and middle school students and educators fill the seats of the U.S. Air Force Academy's (USAFA) Fairchild Hall auditorium for presentations by Chiao.
Based in Houston, Chiao is the Space Foundation's special advisor – human spaceflight. His Space Shuttle missions include: STS-92 Discovery, Oct. 11-24, 2000; STS-72 Endeavour, Jan. 11-20, 1996; STS-65 Columbia, July 8-23, 1994. In addition, he flew as flight engineer 1 aboard Soyuz TMA-5 to the ISS, where he served as commander and NASA science officer for Expedition 10. He lived on the ISS for six and half months. He earned a doctoral degree in chemical engineering from the University of California at Santa Barbara.
This article is part of Space Watch: October 2014 (Volume: 13, Issue: 10).
---
Posted in International Affairs