Second View
---
Spirituality and Space Technology
Written by: developer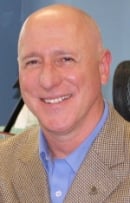 By Kevin Cook, Space Foundation Vice President - Marketing & Communication
Building awareness of the benefits of space exploration is always interesting work. Our Space Certification program does a great job of recognizing an amazing variety of products and services that use space technology and promote interest in space exploration. One recent addition is of particular interest, and it conveys both international and spiritual implications.
The TIMEZ5 prayer mat is the world's first physiological prayer and meditation mat. And, yes, it uses space age technology in the form of a hygienic chitosan anti-microbial coating. Chitosan is officially recognized by the Space Foundation as a Certified Space Technology.
This unique product was created through five years of research and development in physiology, biomechanics and ergonomics. These areas were researched to understand the impact on, and from, daily modern life and traditional rituals. The TIMEZ5 technology is ideal for light physical exercises and for long and short-term relaxation. It is also ideal for light friction and short-term light motion meditation, and for people with physical, posture and fatigue problems. Learn more about the product here.
Chitosan in Space
Chitosan space studies go all the way back to U.S.-Soviet studies aboard the MIR space station. Later Space Shuttle and International Space Station (ISS) studies have shown that chitosan significantly increases pathogen resistance with the same effect on Earth. Further, cultured cells that did not receive chitosan treatment failed to survive the trip back to Earth, while those that did survived quite well.
An ongoing study ("Cell Culture Module - Immune Response of Human Monicytes in Microgravity") aboard the ISS focuses on antibacterial treatment options to improve immune responses to injury or trauma during space flight. The experiments will help determine new wound healing treatments for astronauts now and for future space travel.
Good Things Come from Space
Dozens of Certified space products and services help improve and even save lives here on Earth. It is especially gratifying to see how space technology can actually play a role in spiritual health for millions of people engaged in prayer and meditation around the globe.
Through our Space Certification™ program, the Space Foundation and our program partners show the public how space technologies improve life on Earth, and make space more interesting and accessible to everyone.
Using the official Space Certification seal provides a marketing edge for partners and tells the story of how space technology enhances practically every aspect of life. Much of what improves our lives - think healthcare, communications, travel, recreation, entertainment - benefits directly from technology originally developed for or improved for space exploration. Technologies developed to get us "out there" come home to improve life on Earth.
This article is part of Space Watch: January 2015 (Volume: 14, Issue: 1).
---
Posted in Second View