The View From Here
---
Film Makers Embrace our Journey to Space
Written by: developer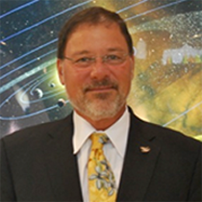 On Feb. 24,the Space Foundation will partner with K2 Communications, Giant Screen Films and the National Air & Space Museum in Washington, D.C., to hold a private advance screening of Journey to Space, a new, very large format film that celebrates the achievements of the Apollo, Space Shuttle and International Space Station programs.
Importantly, Journey to Space explores how science and technology are enabling new frontiers in human space flight, with astronauts soon to undertake milestone missions beyond low Earth orbit.
Journey to Space, narrated by Sir Patrick Stewart, is the latest eye-popping production of Giant Screen Films, one of the most prolific and awarded producers of large format motion pictures. It will go into distribution to theaters and museums around the world — including the Space Foundation Discovery Center in Colorado Springs.
While inspirational and educational films like Journey to Space are important to help inspire our next generation of explorers, by no means is the genre alone. Pure entertainment films — most often science fiction, but oftentimes science "realism" — also play a role in keeping the public psyche favorably attuned to space exploration. And judging by a recent report from our friends at SpaceNews, 2015 looks to be a banner year for space films, with at least 10 such major motion pictures planned for release.

Read the SpaceNews story here.
The three potential blockbusters from the list would appear to be Jupiter Ascending, The Martian, and, of course, the forgone conclusion for box office monster of the year, Star Wars VII: The Force Awakens. (You may stop swooshing your light sabers now.)
Jupiter Ascending is the latest unbridled ambition of Lana and Andy Wachowski, celebrated creators of the Matrix Trilogy, V for Vendetta and the much maligned, yet brilliant masterpiece Cloud Atlas. A story of ruling families and palace intrigue set on a galactic scale, Jupiter Ascending looks a lot like Game of Thrones in Space — and would do, even without the casting of GOT's Sean Bean (Ned Stark) as Stinger.
Bean also figures in another big release to watch for, The Martian, starring Matt Damon. The Martian is not due out until November, and is based on the best selling book by Andy Weir. With Damon starring and Ridley Scott directing, there are big hopes for this movie about a crew of NASA astronauts that abandons one of its members on the Red Planet. My skepticism about this movie is based on my friendships with real NASA astronauts, and knowing these men and women as I do, I cannot for a minute suspend my disbelief to imagine any of them ever abandoning a crewmate. Ever. (This was one of my major gripes with Interstellar, in which Damon also played a stranded NASA astronaut — helping that movie drag on interminably without making any particular plot point or story advancement.)
Parents, don't despair, as there will be at least a couple of kid-friendly space movies this year. Ratchet and Clank is an animated film version of the popular video game, and Home is an animated tale of a cat named Pig, and a band of over-the-top cute color changing aliens working to — well, who cares, it sounds adorable.
The 800 pound gorilla in this zoo is, of course, the highly anticipated, and long awaited, next chapter in the Star Wars saga. If anything from Hollywood has ever come close to "breaking the internet," it was the release of the official teaser trailer for Star Wars VII: The Force Awakens — which was viewed 58.2 million times in its first four days of release. With J.J. Abrams at the helm and Disney backing its recently acquired Lucasfilm, Ltd., brand, this is one of the most anticipated films in history, and is expected to easily surpass $1.5 billion in global box office — to say nothing of all the downstream merchandising. Fans of all ages, from around the world, have been clamoring for this film since the last Star Wars release, Episode III: Revenge of the Sith a decade ago.
While fans of space-based motion pictures will have a lot to celebrate this year, there is, nonetheless, a black hole swirling around one of the most venerated science fiction franchises ever. Over at Paramount, studio bosses appear poised to completely blow one of the biggest moments in sci-fi history: The 50th Anniversary of Star Trek. One of the most successful TV serializations ever, the made-for-television franchise is suffering through one of its longest absences from TV ever, and with the 50th Anniversary of the first broadcast episode little more than a year away, Paramount appears to have neither a director, nor a script, for a third movie starring the current, rebooted crew of the starship Enterprise.
We live in a world where the lines between education and entertainment have become blurred, and hybrid approaches to "edutainment" more and more commonplace. From STEM-friendly and classroom-ready documentaries like Journey to Space, to the often thought-provoking humanistic explorations of Star Trek, to the swashbuckling of Star Wars, or even Guardians of the Galaxy, motion pictures that revel in the wonders of space can inspire all of us. And for those of us who are lucky enough to live and work in the space industry, they can remind us of the aspirational beauty, and importance, of what we do.
The View from Here is that filmmakers embrace our journey into space, and we, therefore, should embrace them. See you at the movies!
This article is part of Space Watch: February 2015 (Volume: 14, Issue: 2).
---
Posted in The View From Here