International Affairs
---
Basic Plan on Space Policy for Japan to be Presented at 31st Space Symposium
Written by: developer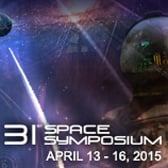 Rie Suetomi, Director, Office of National Space Policy, Cabinet Office of Japan, will present the new Basic Plan on Space Policy for Japan during the Wednesday session, "Country in Focus – Space in Japan." The new basic plan includes both perspectives of national security and civil use of space.
Other countries to be featured in the "Country in Focus" presentations include: Germany, UAE and the UK.
The 31st Space Sympsoium will be held April 13-16 at The Broadmoor. A discount on standard industry registration is currently available if paid by March 20, 2015. Complete Space Symposium conference information, and secure online registration for all tracks and programs, may be found at www.SpaceSymposium.org.
Co-sponsors
a.i. solutions; Aerojet Rocketdyne; Arianespace, Inc.; Artel LLC; Ball Aerospace & Technologies Corp.; Booz Allen Hamilton; Colorado Space Coalition; El Pomar Foundation; Exelis; Holland & Hart; Inmarsat; Intelsat General Corporation; Lockheed Martin; Northrop Grumman; OrbitalATK; Pulsed Harmonix; Raytheon; Scitor; SES Government Solutions; SpaceX; Spincraft; SSL; Stellar Solutions; United Launch Alliance (ULA). Aviation Week, Satnews and Space News are media partners.
This article is part of Space Watch: March 2015 (Volume: 14, Issue: 3).
---
Posted in International Affairs