The View From Here
---
30 Years On, Our Commitment to Education Keeps Getting Stronger
Written by: developer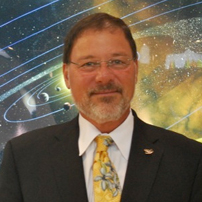 As the Space Foundation's third Summer of Discovery comes to a close later this month, our team and our partners in STEM education have much to celebrate. In little more than two and a half years of operation, our Space Foundation Discovery Center (SFDC) has grown from less than 2,000 square feet to about 17,000 square feet. Importantly, during this time, with the help of our donors, corporate partners, volunteers, docents, teacher liaisons and others, we have been able to provide hands-on STEM education opportunities at the Discovery Center for nearly 60,000 people — the vast majority, children.
So it is hard to imagine a better way to end the summer than with the July 21 announcement that Raytheon has made a significant, leadership level investment in our STEM education programs. Raytheon's $300,000 investment will help propel our STEM education programs for the next four years, and includes annual lead sponsorship of Summer of Discovery through 2018, a special Colorado exhibition of the company's massively popular MathAlive! museum exhibit, and the establishment of a Raytheon ScholarTrips fund to bring students from throughout the state to experience Space Foundation STEM education programs at the Discovery Center.
"The Raytheon team in Colorado Springs is passionate about the missions we support and the technologies we build, and want to make sure our commitment to innovation through engineering is shared with the next generation," said Todd Probert, vice president of Mission Support and Modernization at Raytheon IIS, in making the announcement. "Raytheon's focus on STEM education complements the established initiatives underway at the Discovery Center to fuel interest in the areas that will ensure our country's future competitiveness and economic growth."
Raytheon joins a select list of Space Foundation corporate partners who have invested in our STEM education initiatives at a leadership level. These include Northrop Grumman (Northrop Grumman Science Center featuring Science on a Sphere®), Lockheed Martin (Lockheed Martin Space Education Center) and Analytical Graphics (AGI Space Missions Simulation Lab).

The advent of the Space Foundation Discovery Center has been a transformational development for our organization. Like most organizations involved in providing space-based STEM education programs, products and services, we've had our share of ups and downs, twists and turns over the years — as Education, writ large, has been buffeted by the pendulum swing between student-focused programs and educator professional development; by state, local and federal budget cuts; changing demographics; and, of course, the emergence of politically mandated, high stakes student testing regimes that drive schools toward standardization rather than innovation. While we still provide a full spectrum of curriculum, instruction and accredited educator professional development programs, the Discovery Center has become our main platform for delivering hands-on, experiential STEM education for tens of thousands of students per year, and thousands more via distance delivery (for example, in mid-July, we conducted Discovery Center-based programs, delivered via the internet, for more than a thousand students in India). While we are still happy to send teams of our Space Education Specialists to remote locations for community-based programs, students and teachers increasingly want to access the unique experience of the Discovery Center — either in person, or via the web.
Much has changed in the near three decades that we've toiled in the trenches of STEM education. Maintaining a focus on educator professional development has become increasingly challenging as teacher-training budgets across the nation have been decimated. Broadly speaking, schools place more emphasis now on student testing, and less on continuing education for teachers. Although NASA has not completely abandoned education, the kind of support that organizations like ours once received from NASA — materials, speakers and especially grants — has largely gone the way of the dodo as the space agency deals with huge budget pressures of its own.
But in a roundabout way, the Discovery Center has brought us back to the future.
One of our earliest success stories in education outreach took place in 1991. Called "Reach for the Stars," it was a cooperative effort of the Space Foundation, NASA, Allied-Signal Aerospace Company, the Maricopa County School System (Arizona) and the Annenberg School for Communication. "Reach for the Stars" combined educator professional development; presentations to students by engineers, NASA instructors and astronauts; field trips and guided tours to a "space museum" (albeit a temporary one, set up for just two weeks); hands-on, experiential learning activities for both students and teachers; and a dedicated "super teacher," to prime the pump before "Reach for the Stars," and to keep interest alive after the program's conclusion. Godspeed, and bless you, Pam Ross, wherever you are.
The project report for the Annenberg School was quick to point out that educational outcomes take years and years to materialize, and are extremely difficult to measure. At the same time, by deploying a host of research questionnaires and conducting interviews and observations in the field, it became clear that "Reach for the Stars" had made a huge positive impact upon both the attitudes and classroom behaviors of students and teachers alike. (Interestingly, the study called for an evaluation of participating students in 2011, but provided no mechanism for collecting longitudinal data, or for funding and triggering an assessment in 2011.)
But the Discovery Center, the Internet, and the continuing support of our corporate partners, essentially allow us now to operate a "Reach for the Stars" platform of all the critical components we demonstrated in 1991 — on an ongoing, rather than temporary, or project-by-project, basis. The technology we are able to bring to bear today, via a unique combination of flexible and specialized learning laboratories, visiting exhibits, museum displays, experiential programs and internet-delivered curriculum and instruction, makes the approach even more powerful. With all those bells and whistles, the core of the effort still comes down to outstanding people — our amazing, worldwide network of Teacher Liaisons; a cadre of highly supportive former NASA astronauts; our docents and volunteers; and our amazing team of full time Space Education Specialists.
The View From Here is that 30 Years On, Our Commitment to Education Keeps Getting Stronger. We understand the future of our industry, and the future of our country, are at stake. We are uplifted by the voices of the thousands of students and teachers who pass through our care. And we are buoyed by, and grateful for, the support of our partners and donors who actively support our mission, To advance Space Endeavors, to Inspire, Enable and Propel Humanity.
This article is part of Space Watch: August 2015 (Volume: 14, Issue: 8).
---
Posted in The View From Here