International Affairs
---
Space Symposium to Open with Space Agency Leaders Panel
Written by: developer
More than a dozen space agency leaders will fill the stage when the 32nd Space Symposium panel discussions begin on Tuesday, April 12, at The Broadmoor in Colorado Springs, Colo., USA. This premier global space conference annually attracts thousands of space professionals from dozens of countries. The 32nd Space Symposium will also feature discussion of emergent space technology, and more than 160 displays of the world's latest space technology, products and services in the Lockheed Martin Exhibit Center and Pavilion.
Top space agency leaders on the panel include:
Dr. Mohammed Al Ahbabi, Director General, UAE Space Agency
Professor Roberto Battiston, President, Italian Space Agency (ASI)
Charles F. Bolden, Jr., (Major General, USMC, Ret.), Administrator, National Aeronautics and Space Administration (NASA)
Dr. Gwang-Rae CHO, President, Korean Aerospace Research Institute (KARI)
Dr. Pascale Erhenfreund, Chair of the Executive Board, German Aerospace Center (DLR)
Sylvain Laporte, President, Canadian Space Agency
Jean-Yves Le Gall, President, Centre National d'Études Spatiales (CNES)
Dr. Francisco Javier Mendieta Jiménez, General Director, Mexican Space Agency (AEM)
Ger Nieuwpoort, Ph.D., Director, Netherlands Space Office
Dr. Marious-Ioan Piso, President and Chief Executive Officer, Romanian Space Agency (ROSA)
Johann-Dietrich Wörner, Director, European Space Agency (ESA)
Yuichi Yamaura, Vice President, Strategy, International Relations and Industrial Collaboration, Japan Aerospace Exploration Agency
The panel will be moderated by Space Foundation Chief Executive Officer Elliot Pulham. See a detailed agenda and featured speakers here.
About the Space Symposium
The Space Symposium is the annual gathering of all sectors of the global space community, to be held April 11-14 at The Broadmoor in Colorado Springs. Visit www.SpaceSymposium.org for secure online registration, meal tickets and secure lodging reservations.
Co-sponsors
a.i. solutions; Aerojet Rocketdyne; Aerus; Arianespace, Inc.; ASRC Federal; BAE Systems; Colorado Space Coalition; El Pomar Foundation; FLUOR; Intelsat General Corporation; Lockheed Martin Space Systems Co.; Northrop Grumman; Raytheon; Scitor Corporation; Secure World Foundation; SES Government Solutions; Stellar Solutions; United Launch Alliance (ULA). Aviation Week Network and Space News are official media partners.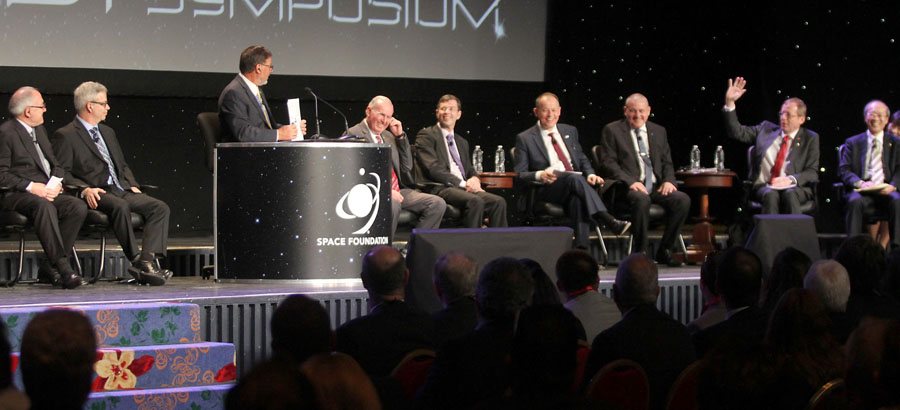 This article is part of Space Watch: February 2016 (Volume: 15, Issue: 2).
---
Posted in International Affairs