Space Symposium
---
Jeff Bezos Founder of Blue Origin and Amazon to Speak at 32nd Space Symposium
Written by: developer
Jeff Bezos, founder of Blue Origin, will be a featured speaker at the 32nd Space Symposium. Bezos' talk will take place Tuesday afternoon, April 12, following a presentation by Gen. John E. Hyten, USAF, Commander, Air Force Space Command, and preceding The Honorable Robert O. Work, Deputy Secretary of Defense.
The four-day conference will be held April 11-14 at The Broadmoor, in Colorado Springs, Colo., and is widely known as the most significant annual global space industry conference, attracting thousands of participants from dozens of countries, including the world's leading decision makers from civil, military, government, commercial and academic institutions.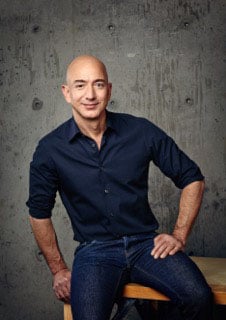 The 32nd Space Symposium program will include a Technical Track, two classified tracks, discussion of emergent space technology, international space panels and a New Generation Space Leader program. The Symposium's Lockheed Martin Exhibit Center and Pavilion will feature more than 180 displays of the world's latest space technology, products and services.
See all of the confirmed speakers for the 32nd Space Symposium, plus the agenda and registration information, at www.SpaceSymposium.org.
About Bezos
Jeff Bezos is the founder of aerospace company Blue Origin, which is working to lower the cost and increase the safety of spaceflight so that humans can better continue exploring the solar system.
Bezos is also Amazon Founder and CEO. Bezos founded Amazon.com in 1994 with a mission for it to be Earth's most customer-centric company. Amazon offers low prices and fast delivery on millions of items, designs and builds the bestselling Kindle hardware and empowers companies and governments in over 190 countries around the world with the leading cloud computing infrastructure through its Amazon Web Services offering.
Bezos graduated summa cum laude, Phi Beta Kappa, in electrical engineering and computer science from Princeton University in 1986, and was named TIME magazine's Person of the Year in 1999.
About Blue Origin
Blue Origin, LLC, is a private company developing vehicles and technologies to enable commercial human space transportation. Blue Origin has a long-term vision of greatly increasing the number of people that fly into space so that we humans can better continue exploring the solar system. For more information and a list of job openings, please visit www.blueorigin.com.
Symposium Co-sponsors
a.i. solutions; Aerojet Rocketdyne; Aerus; AGI; Arianespace, Inc.; ASRC Federal; BAE Systems; Ball Aerospace & Technologies Corp.; Boeing; Booz Allen Hamilton; Colorado Space Coalition; Dynetics; El Pomar Foundation; Euroconsult; FLUOR; General Dynamics; Harris; Holland & Hart; Inmarsat; Intelsat General Corporation; Lockheed Martin Space Systems Co.; Northrop Grumman; Orbital Systems; Raytheon; RBC Signals; SAIC; Secure World Foundation; SES Government Solutions; Space Angels Network; SpaceX; Spincraft; Stellar Solutions; United Launch Alliance (ULA). Aviation Week Network, Government Executive Media Group; ROOM and Space News are official media partners.
This article is part of Space Watch: April 2016 (Volume: 15, Issue: 4).
---
Posted in Space Symposium