Space Symposium
---
Experts to Discuss Impact of Big Data on the Future of Space
Written by: developer
This year's Space Symposium is on track to be the most dynamic coming-together of international space collaboration, passion and accomplishment in its 33-year history.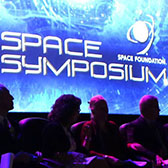 For one of its panels on April 4, the Space Foundation is bringing together investors and experts from the microsat, launch and data science communities to discuss "Big Data and the Future of Space." The discussion will be moderated by space investor Dylan Taylor, with panelists:
Zachary Bogue, Co-Managing Partner, Data Collective
Lars Dyrud, Ph.D., Chief Executive Officer, OmniEarth Inc.
Jane Poynter, Chief Executive Officer, World View
Jeffrey Tarr, President and Chief Executive Officer, DigitalGlobe
Dr. Marco Villa, President and COO, Tyvak Nanosatellite Systems
The panel is one of several at this four-day international conference focusing on the future of the business of space. The 33rd Space Symposium will be held April 3-6 at The Broadmoor in Colorado Springs, Colo. Thousands of global space decision makers from dozens of countries are expected to attend the Symposium, considered to be the single most important space conference for connecting government, military and industry leaders from around the world.
Plan now to connect with your customers at the Symposium's Boeing Exhibit Center and Boeing Exhibit Center Pavilion, and see all of the Symposium tracks, speakers and panels on the complete agenda here. A discount is available on standard industry registration if paid by March 3, 2017.
Sponsorship
Co-sponsors for the 33rd Space Symposium include: AGI; ASRC Federal; Ball Aerospace; Blue Origin; Boeing; Booz Allen Hamilton; Colorado Space Coalition; Dynetics; El Pomar Foundation; Harris; Inmarsat; L3 Technologies; Lockheed Martin; Northrop Grumman; Raytheon; Secure World Foundation; SES Government Solutions; Stellar Solutions; SpaceX; Spincraft; Tesat Spacecom; United Launch Alliance (ULA).
This article is part of Space Watch: February 2017 (Volume: 16, Issue: 2).
---
Posted in Space Symposium