Space Symposium
---
Former Cosmonaut Joins Lineup of Astronauts at Space Foundation Yuri's Night
Written by: developer
Former Russian Cosmonaut Sergei K. Krikalev will be a featured guest at the Space Foundation's Yuri's Night party on April 2, at the Discovery Center in Colorado Springs, joining a lineup of former NASA astronauts and other space dignitaries. Yuri's Night parties and events are held around the world every April in commemoration of cosmonaut Yuri Gagarin's first manned spaceflight in 1961, and the inaugural launch of NASA's Space Shuttle in 1981.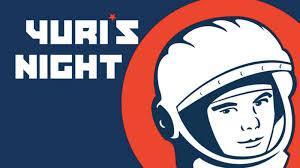 At Space Foundation Yuri's Night, we will welcome a Russian delegation for the unveiling of a bust of Yuri Gagarin, donated to the Space Foundation by the Russian Embassy.
The public is invited to reserve tickets now for Space Foundation Yuri's Night and the opportunity to meet cosmonaut Krikalev and these former NASA astronauts:
Lt. Col. Duane G. Carey, USAF (Ret.)
Col. Paul S. Lockhart, USAF (Ret.)
Maj. Gen. Ronald M. Sega, Ph.D., USAF (Ret.)
Kathryn C. Thornton, Ph.D.
Space Foundation Yuri's Night celebrates global space achievements and gives the public the opportunity to meet and interact with key participants in the coming week's Space Symposium, to be held at The Broadmoor, April 3 – 6. Proceeds from Yuri's Night ticket sales will benefit Space Foundation STEM education programs.
Here are some of the activities at Space Foundation Yuri's Night:
Astronaut and cosmonaut Meet-N-Greets — get autographs, ask questions or take selfies with true space heroes!
Mad Science Demos — fun, edgy science experiments
Spacelab Exhibit Ribbon Cutting — see our new permanent exhibit
Virtual Reality Demos — are you ready to experience a new reality?
Photo Bar "Shots"– capture this unforgettable evening at the only photo bar of its kind in the universe!
Red Planet Races — operate remote control rovers on our simulated Mars surface
MAKE IT to Mars Exhibit — try this hands-on adventure and see if you qualify to be a Martian engineer
Colorado-produced Spirits Tasting – enjoy a taste of different Colorado-made spirits and take home a souvenir glass
Silent Auction — bid on unique and fun items
Space Foundation Yuri's Night is a 21-years and older event, held at the Discovery Center, 4425 Arrowswest Drive in Colorado Springs, from 5:30-9:00 p.m. on Sunday, April 2.
Save money by reserving your tickets in advance. See details and get your tickets now here.
This article is part of Space Watch: March 2017 (Volume: 16, Issue: 3).
---
Posted in Space Symposium