Report from Washington, D.C.
---
Space Foundation COO Attends National Space Council Signing
Written by: developer
On June 30, President Trump signed an executive order re-establishing the National Space Council for the first time since 1993, and appointed Vice President Pence chairman. Space Foundation Chief Operating Officer Shelli Brunswick (pictured far right below) attended the signing, which was also attended by former NASA astronauts Dr. Buzz Aldrin, Col. Alvin Drew, Dr. Sandra Magnus and Dr. David Wolf.
The Council will include the new NASA administrator, once that person has been named, as well as the secretaries of state, defense, commerce, transportation and homeland security; the chairman of the Joint Chiefs of Staff; and several other administration officials. Scott Pace, former Director of the Space Policy Institute and Professor of the Practice of International Affairs at the George Washington University's Elliott School of International Affairs, has been selected to serve as executive secretary of the council.
The National Space Council was established 60 years ago, and disbanded in 1993, during the end of the administration of George H.W. Bush.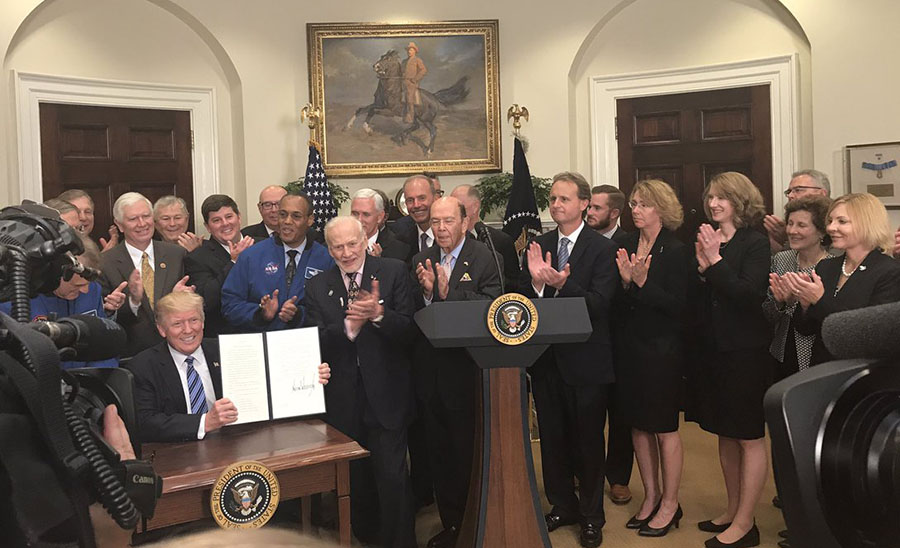 This article is part of Space Watch: August 2017 (Volume: 16, Issue: 8).
---
Posted in Report from Washington, D.C.