Space Foundation News
---
"State of Space" at National Press Club
Written by: Space Foundation Editorial Team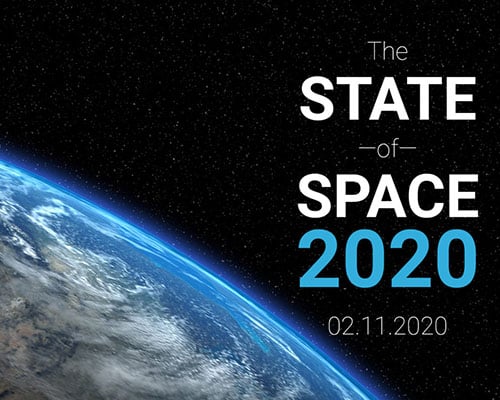 COLORADO SPRINGS, Colo. (Feb. 5, 2020) — Space Foundation will be hosting a "State of Space" event Tuesday, Feb. 11, 9:00 – 11:00 a.m., at the National Press Club, 529 14th Street Northwest, Washington, D.C. Following brief opening remarks by Space Foundation CEO Tom Zelibor, Christian Davenport of the The Washington Post will moderate a discussion between two senior space leaders of the U.S. Congress, Rep. Kendra S. Horn (D-OK) and Rep. Doug Lamborn (R-CO), the bipartisan co-chairs of the Space Power Caucus.
Brian Berger, Editor in Chief of SpaceNews will then moderate a panel of emerging space industry leaders who will share insights and observations about the challenges and opportunities that will arise as the space economy expands and new players and issues emerge. A moderated Q&A session with attending audience and media will conclude the program.
SEE MORE DETAILS AND REGISTER NOW: https://www.eventbrite.com/e/state-of-space-2020-tickets-85990406621
About Space Foundation
Founded in 1983, the Space Foundation is a 501(c)(3) nonprofit and the world's premier organization to inspire, educate, connect, and advocate on behalf of the global space community. It is a leader in space awareness activities, educational programs, and major industry events, including the annual Space Symposium. Space Foundation headquarters is in Colorado Springs, Colo., USA, and has a public Discovery Center, including El Pomar Space Gallery, Northrop Grumman Science Center featuring Science On a Sphere®, and the Lockheed Martin Space Education Center. The Space Foundation has a Washington, D.C., office, as well as field representatives in Houston and on the Florida Space Coast. It publishes The Space Report: The Authoritative Guide to Global Space Activity, and through its Space Certification™ and Space Technology Hall of Fame® programs, recognizes space-based innovations that have been adapted to improve life on Earth. Visit both websites — www.SpaceFoundation.org and DiscoverSpace.org — and follow us on Facebook, Twitter, Instagram, LinkedIn, and YouTube.
# # #
Space Foundation contact:
Carol Hively, Director – Public Relations & Team Communications
[email protected]
---
Posted in Space Foundation News