Education
---
Lockheed Martin to Receive First Space Foundation Athena Education Award
Written by: Space Foundation Editorial Team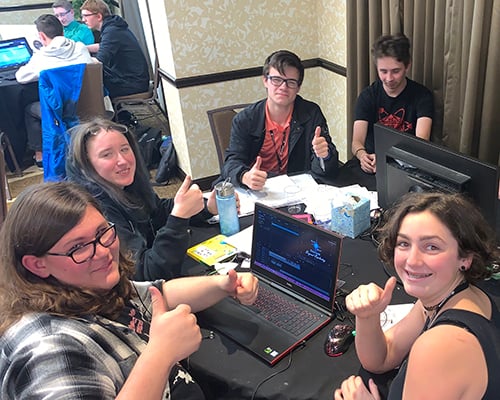 COLORADO SPRINGS, Colo. (March 12, 2020) – This year, the Space Foundation is introducing a new annual recognition, the Athena Education Award, created to celebrate and honor the spirit, leadership, and work of a recognized partner of the Space Foundation's worldwide education mission.
As the Greek goddess of knowledge and wisdom, Athena sought to share learning and skill with all. Often paired with an owl – a bird of wisdom ­– Athena's leadership and example provided inspiration throughout the ancient world.
In acknowledgment of her example, the Space Foundation will annually choose an individual or organization that provides inspiration, leadership, and initiative to its efforts to educate the public in the fields of space and STEM education.
In 2020, the Inaugural Athena Education Award will be presented to Lockheed Martin on Monday, March 30, at the Space Foundation's Discovery Center in Colorado Springs, Colo.
For more than a decade, Lockheed Martin has been a steadfast supporter of the Space Foundation's STEM education programs, including Space Across the Curriculum educator professional development, the Space Foundation's International Teacher Liaison program, and recently, a four-year, $400,000 grant to support the education labs at the Space Foundation Discovery Center.
This past January, Lockheed Martin took an even more ambitious step and funded the pilot of the Space Foundation's new, innovative, weeklong Junior Space Entrepreneur Program (JSEP). JSEP is an "Immersive Education" effort that leads students to form their own space company on a simulated human mission to Mars.
Launched in January at the STEM School Highlands Ranch (Colo.), JSEP educators taught the students business and entrepreneurship principles through curriculum developed in partnership with Junior Achievement-Rocky Mountain. For their capstone project, JSEP students developed a technology transfer product that they pitched to "investors," much the way entrepreneurs do in business every day.
In blending space commerce with space technology, JSEP is a catalyst effort to create the next generation of talent that will expand the space economy and fulfill our exploration aspirations.
As partner to the Space Foundation, Lockheed Martin has consistently demonstrated its dedication to the education mission of the Space Foundation, while assuring that each of those efforts makes space for all. They have set the standard for all of the Space Foundation's education partnerships to follow.
Learn more about Space Foundation STEM education programs and outreach by visiting www.discoverspace.org
Learn more about Lockheed Martin Space at www.lockheedmartin.com/en-us/capabilities/space.html
About the Space Foundation
Founded in 1983, the Space Foundation is a 501(c)(3) nonprofit and the world's premier organization to inspire, educate, connect, and advocate on behalf of the global space community. It is a leader in space awareness activities, educational programs, and major industry events, including the annual Space Symposium. Space Foundation headquarters is in Colorado Springs, Colo., USA, and has a public Discovery Center, including El Pomar Space Gallery, Northrop Grumman Science Center featuring Science On a Sphere®, and the Lockheed Martin Space Education Center. The Space Foundation has a Washington, D.C., office, as well as field representatives in Houston and on the Florida Space Coast. It publishes The Space Report: The Authoritative Guide to Global Space Activity, and through its Space Certification™ and Space Technology Hall of Fame® programs, recognizes space-based innovations that have been adapted to improve life on Earth. Visit both websites — www.SpaceFoundation.org and DiscoverSpace.org — and follow us on Facebook, Twitter, Instagram, LinkedIn, and YouTube.
About Lockheed Martin
Headquartered in Bethesda, Maryland, Lockheed Martin is a global security and aerospace company that employs approximately 110,000 people worldwide, and is principally engaged in the research, design, development, manufacture, integration, and sustainment of advanced technology systems, products, and services.
# # #
Space Foundation contact:
Carol Hively, Director – Public Relations & Team Communications
[email protected]
---
Posted in Education