Public Policy and Government Affairs
---
Biweekly Washington, D.C., Update for the Week Ending May 1, 2020
Written by: Hanh Le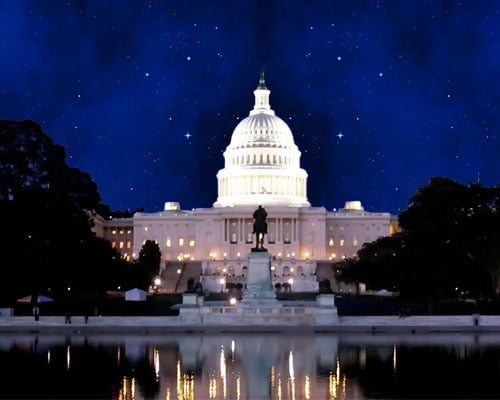 The Senate will reconvene on Monday, May 4, with limited staffing and some hearings scheduled. House Majority Leader Steny Hoyer (D-MD) announced that the House will not return next week, as members expressed concerns about the growing number of COVID-19 cases in Washington, D.C. Regardless, there are many exciting virtual events taking place next week, led by a discussion on May 6 between Secretary of the Air Force Barbara Barrett and Chief of Space
Operations for the Space Force General John "Jay"
Raymond, hosted by the Space Foundation.
Upcoming Space Foundation Events:
May 6, 11 a.m. ET – "America's Space Force: Building the Future Today" with Secretary of the Air Force Barbara Barrett and Space Force Chief of Space Operations Gen. John "Jay" Raymond
The Space Foundation is hosting this event in partnership with the Office of the Secretary of the Air Force and the U.S. Space Force, featuring the Secretary of the Air Force and the Chief of Space Operations.
The exclusive discussion will cover the current state of the Space Force, operational priorities over the next year, and views on a number of pertinent issues.
Register for the event here.
Oct. 31 – Nov. 2: 36th Space Symposium, Colorado Springs, CO
This year's Space Symposium has been rescheduled for Sat., Oct. 31 through Mon., Nov. 2, 2020.
Given the date and timing changes for this year's Symposium program, attendees will find an updated agenda posted online.
Space Policy Updates:
Space Industry Updates:
Wednesday, April 29: 
"Ready to Fight: How the Space Industry Is Leading the Charge to Combat COVID-19" webinar
The event was hosted by the Space Foundation and the CompTIA Space Enterprise Council.
Viasat, Planet, and Microsoft representatives shared how their companies use technologies such as satellite communications, imagery, logistics, and data analytics to help combat COVID-19 and support affected communities.
Planet Senior Director of Government Affairs, Mark Mozena, discussed how geospatial data provides epidemic intelligence to disease control agencies and supports the monitoring of public crowds to combat the spread of coronavirus.
Mike Lubin, Vice President of Government Relations with Viasat, discussed how the pandemic is changing the regulatory landscape around telemedicine, and how Viasat's constellation will facilitate low-cost connectivity to rural areas.
Microsoft Azure Representatives Chirag Parikh and Sam Chan discussed the role of analytics and machine learning in supporting food banks and making informed predictions about food supplies.
A recording of the webinar is available here.
Additional Space Foundation Resources:
The Space Report Quarter 1 – 2020 provides significant insights on workforce development, spacecraft activities, statistics, and analyses covering satellites for communication, Earth observation, and navigation.
The latest Space4U Podcast episode features Will Pomerantz, Vice President of Special Projects and Brand at Virgin Orbit. In this episode, Will discusses his career growth and how Virgin Orbit was able to produce ventilators, supporting COVID-19 relief efforts.
Online learning, lesson plans, and video lessons for students grades K–12 are available at the Discovery Center website.
Reading:
The Gazette (Colorado Springs) column | This awful challenge is our Apollo 13 moment by Tom Zelibor, Space Foundation CEO
The space community often responds quickly to solve new challenges. Those who adapt and overcome can provide powerful leadership in these unprecedented situations.
The article shares insights on the benefits of innovation, and why listening to unlikely sources for solutions can provide critical tools to access in times like these.
The article also discusses lessons learned from the Apollo 13 mission and how they can be applied to the ongoing coronavirus pandemic.
Space Trivia:
On May 4, 1989, NASA launched the STS-30 mission via the Space Shuttle Atlantis from Kennedy Space Center, Florida. The mission objective was to deploy the Venus-bound Magellan probe into orbit. (Source: JPL)
---
Posted in Public Policy and Government Affairs