Uncategorized
---
Volunteer Spotlight: Liz Henderson
Written by: Space Foundation Editorial Team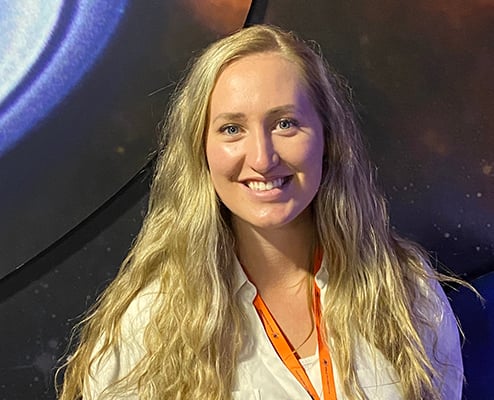 These Volunteer Spotlight articles profile some of the interesting and dedicated people who make Space Foundation programs possible. We could not do the work that we do without the generous and tireless support of our volunteers. This week, we are featuring Space Foundation/Space Foundation Discovery Center volunteer Liz Henderson.
Liz recently returned to her home state of Colorado after spending the past eight years living in South Florida, where she earned a master's degree in communication while competing on a volleyball scholarship at Lynn University in Boca Raton. Though her background is in journalism, she recently decided to make a career switch to the space sector and is using spare time between jobs to volunteer for Space Foundation, and in the Space Foundation Discovery Center. Her personal interests include Star Trek, scuba diving, and reading.
Henderson's favorite part of volunteering at the Space Foundation is giving back to the organization that has ignited her dream to pursue work in the space industry. As a journalist, Liz covered an event where former NASA astronaut, Lt. Col. (Ret.), Duane "Digger" Carey spoke. It was during an interview with him that Liz realized the space industry needs everyone, not just astronauts — and that meant her, too.
Working in the Discovery Center's Mars Robotics Laboratory, she loves utilizing her communication skills to interact with guests over the awesomeness of space technology while also learning about the technical side of things by programming the rovers. Liz has also been assisting the Space Foundation's Communications team with audio editing for the Space4U podcast series.
If you are interested in becoming a Space Foundation/Space Foundation Discovery Center volunteer, please reach out to Jennifer Walters, Volunteer Program Manager, at [email protected]
---
Posted in Uncategorized