Space Foundation Press Releases
---
Space Technology Hall of Fame Inductees to Be Celebrated During World Space Week with Virtual Ceremony on Oct. 8
Written by: Space Foundation Editorial Team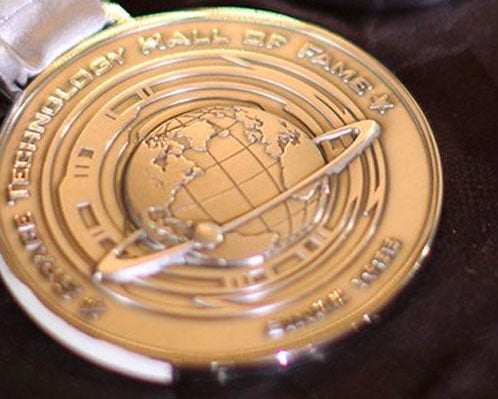 Space Foundation's World Space Week Events to Include Induction of Three Foundational Commercial Technologies
COLORADO SPRINGS, Colo. — Oct. 1, 2020 — Space Foundation, a 501(c)(3) global space advocate for 37 years, today announced that its events celebrating World Space Week will include an induction ceremony honoring three legendary commercial adaptations of space technologies into the Space Technology Hall of Fame®.
In recognizing these new honorees, Space Foundation CEO Tom Zelibor shared, "Our class of 2020 inductees are no strangers to transforming and adapting to achieve success. Each of them has taken an existing space technology and adapted it to address everyday needs on Earth, and serves us on our best days, as well as our most challenging. Telemedicine, teleconferencing, and telecommunications — all are vital to the world's security, commerce, and connectivity, and they are at the core of the three technologies being inducted this year. They stand as prime examples of how space technology improves life for everyone."
The 2020 inductees are:
The virtual induction ceremony for these honorees will be held on October 8, at 11:00 a.m. MDT at https://spacefoundation.org/2020-sthof-induction-ceremony/
Founded in 1988, the Space Technology Hall of Fame recognizes the life-changing technologies emerging from global space programs, honors the scientists, engineers and innovators responsible, and communicates to the public the importance of these technologies as a return on investment in space exploration.
To date, dozens of technologies have been inducted, and hundreds of organizations and individuals have been honored for adapting space technologies into commercial products that improve our quality of life. Inductees are chosen through a rigorous selection process administered by panels of judges that include preeminent scientists, researchers, astronauts, civil, and commercial leaders, as well as individuals from across the space, technology, and global business communities.
About Audio Conference Bridge Technology (Compunetix)
Compunetix has become the leading provider of audio conference bridge technology worldwide, based on their development of hardware and software systems to enable software-based switching and grouping of calls between multiple global destinations. This technology originated from a 1987 NASA contract Compunetix was awarded to develop a digital replacement for the manually intensive analog switching system NASA had in place at the time. The digital system developed for NASCOM by Compunetix became the basis for their commercial product, which today is used by nearly every major conference call provider.
Audio Conference Bridge Technology Inductees
Individuals:
Organizations:
About Apollo 70 Cardiac Care Monitoring System (Spacelabs Healthcare)
Spacelabs Healthcare designs and manufactures medical devices that use real-time telemetry sensors to record and transmit health data so patient health can be monitored remotely while in clinical care. All of Spacelab's current product lines have their origins in the systems developed for NASA's Gemini and Apollo missions in the 1960s. Spacelabs subsequently took this technology and adapted it into the commercial systems now used in hospitals all over the world.
Apollo 70 Cardiac Care Monitoring System Inductees
Organizations:
About Traveling-Wave Tube Amplifier (L3 Electron Devices) [Note: L3 Electron Devices is now part of L3Harris]
Traveling-Wave Tube Amplifiers (TWTAs) were developed to amplify radio frequency signals in the 1930s, but in the early 1960s, NASA and L3 teamed up to evolve the technology so it would meet the transmission needs of space missions. The first TWTA flew on a satellite in 1962, and they have been a part of every science spacecraft NASA has launched since 1972. L3 is the only provider of space-certified TWTAs in the United States, and they have been continually working with NASA to improve their performance over the past 50 years. Today, commercial companies use the ever-expanding capabilities of these TWTAs to enhance mobile satellite voice and data services, broadband internet service, video distribution, and more.
 Traveling-Wave Tube Amplifier Inductees
Organizations:
About Space Foundation
Space Foundation is a 501(c)(3) nonprofit advocate for the global space community. Through a partnership model, its Center for Innovation and Education unites the entire spectrum of global stakeholders, including public and private businesses, government agencies, educational institutions, and local communities to serve the entire life cycle of the workforce, from students and young leaders to entrepreneurs and professionals. Best known for its annual Space Symposium, attended by 15,000 space professionals from around the world, Space Foundation also publishes The Space Report, its quarterly authoritative guide to research and analysis of the space industry. Headquartered in Colorado Springs, Colo., Space Foundation's Discovery Center offers rich programming on-site and online for teachers, parents, and students. Visit Space Foundation at www.SpaceFoundation.org, and follow us on Facebook, Twitter, Instagram, LinkedIn, and YouTube.
###
All brand names and product names are trademarks or registered trademarks of their respective companies.
Tags: Space Foundation, Space Technology Hall of Fame, Compunetix, Spacelabs Healthcare, L3Harris, space economy, space commerce, space technology, space innovation
Media Contact:
Rich Cooper
Vice President, Strategic Communications & Outreach
Space Foundation
(202) 596-0714
[email protected]
[email protected]
---
Posted in Space Foundation Press Releases