Uncategorized
---
Volunteer Spotlight: Connie Munson
Written by: Space Foundation Editorial Team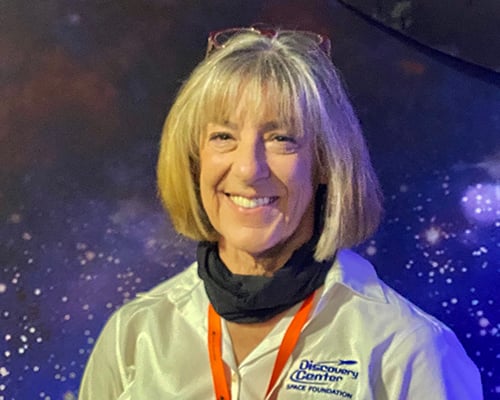 These Volunteer Spotlight articles profile some of the interesting and dedicated people who make Space Foundation programs possible. We could not do the work that we do without the generous and tireless support of our volunteers. This week, we are featuring Space Foundation Discovery Center volunteer Connie Munson.
Connie was born and raised in Colorado, and there is so much that she appreciates about the state, as it supports her hobbies of running, hiking, skiing, biking, and kayaking. Professionally she is a professor at UCCS, teaching courses in both International Management and Marketing. Connie also has two children, and she enjoys spending as much time with her family as possible.
Munson's favorite part of volunteering is talking with Discovery Center guests and being able to share stories about the different exhibits. She also enjoys learning from guests and other volunteers, as many of them have experience in the space industry and have some amazing stories of their own to share.
Connie believes that the world offers so much through the people she meets, and those who are discovering more about the universe we live in. She appreciates that the Discovery Center offers yet another opportunity to learn and understand the world, our universe, and the impact that people have on the future of space exploration.
Another thing Munson loves about volunteering is the way the Space Foundation staff treats their volunteers. She feels that it's one of the best places to be a volunteer, because the organization always shows volunteers how much they are appreciated!
If you are interested in becoming a Space Foundation/Space Foundation Discovery Center volunteer, please reach out to Jennifer Walters, Volunteer Program Manager, at [email protected]
---
Posted in Uncategorized