Research and Analysis
---
'The Space Report' Shows 2020 Launch Activity Hit a 20-Year High
Written by: Space Foundation Editorial Team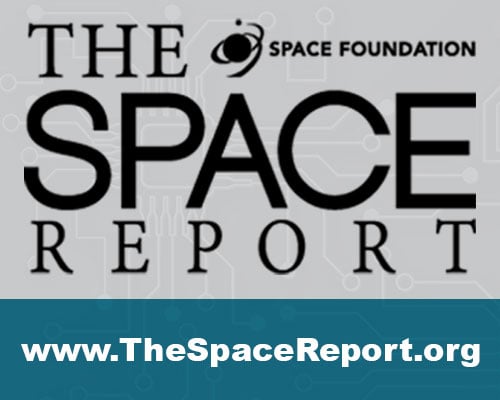 Total 2020 spacecraft deployment tripled the amount deployed in 2019
Commercial satellite deployments increased 477% from 2019 to 2020
Orbital launches approached the high pace of the Space Shuttle era, with the highest five-year total since 1986–1990
COLORADO SPRINGS, Colo. — Jan. 21, 2021 — In its newly released quarterly issue of The Space Report, Space Foundation, a 501(c)(3) global space advocate for nearly 40 years, announced 2020 Q4 research and analysis findings revealing substantial growth in key areas.
Driven by the pace of SpaceX and OneWeb, as the two companies build out their low Earth orbit (LEO) broadband constellation networks, communications satellite deployments in 2020 climbed 477% compared to 2019.
Communications satellites weren't the only source of growth. Preliminary totals from NORAD place the number of 2020 spacecraft deployments at more than 1,200 — triple the amount deployed in 2019, according to The Space Report 2020 Q4.
Orbital launches were also up — to 114 in 2020, compared with 103 in 2019 — and approached the high pace of the Space Shuttle era. The combined orbital launch rate from the past five years is the highest five-year total since 1986–1990, and more than 20% higher compared to the next most recent five-year period of 2011–2015. Eight new launch vehicles debuted in 2020, the highest number in a decade.
Commenting on the release of The Space Report 2020 Q4, Space Foundation CEO Tom Zelibor shared, "The pandemic has tested us all, but for the space community it demonstrated our resilience, and our ability to adapt and execute the most challenging of missions."
The Space Report also provides quarterly economic analysis of the space industry through the S-Network Space Index (SNET SPACE) and Quilty Analytics. Despite the lingering COVID-19 pandemic, most space companies continued strong performance in 2020, further confirmation that the industry, due largely to its long-term government contracts, is buffered from short-term economic unrest.
During the fourth quarter of 2020, SNET SPACE grew rapidly, gaining 21.4% by the end of the quarter. This compares to a 14.1% increase for the S-Network US Equity 3000 Index (SNET 3000) and a 14.7% increase for the S-Network Global 2500 Index (SNET Global 2500). Quilty Analytics' fourth-quarter analysis also tracked strong financial activity, including 20 announced mergers and acquisitions totaling $11.7 billion in disclosed activity.
As the New Year gets underway, many of the 2021 launches planned will be heading to the Moon. Nine countries expect to have landers or rovers exploring for ice and water, measuring solar radiation, collecting regolith — or Moon dust — evaluating possible sites for human settlement, and taking the first steps toward developing space-based industries from its resources. By the end of the decade, that total is expected to be more than a dozen.
The race to the Moon promises to drive development of cislunar space — the vast area between Earth and the Moon. New communications satellites, on-orbit satellite servicing, assembly and manufacturing, space-based solar energy, as well as lunar and asteroid mining are all being pursued. China, which accomplished several successful lunar missions in 2020, envisions an Earth-Moon economic zone valued at $10 trillion by 2050.
About The Space Report
Space Foundation's Research and Analysis team produces The Space Report quarterly to provide regular updates of global space activity. The Space Report is available for purchase by the public for $250 per quarter, or $499 for all four quarters at www.thespacereport.org/pricing. The full PDF is also available to subscribers of The Space Report Online. Additionally, an online subscription provides members with searchable access to all the research conducted for The Space Report since 2005.
About Space Foundation
Space Foundation is a 501(c)(3) nonprofit advocate for the global space community. Through a partnership model, its Center for Innovation and Education unites the entire spectrum of global stakeholders, including public and private businesses, government agencies, educational institutions, and local communities, to serve the entire life cycle of the workforce, from students and young leaders to entrepreneurs and professionals. Best known for its annual Space Symposium, and now the digital Space Symposium 365, Space Foundation also publishes The Space Report, its quarterly authoritative guide to research and analysis of the space industry. Headquartered in Colorado Springs, Colo., Space Foundation's Discovery Center offers rich programming on-site and online for teachers, parents, and students. Visit Space Foundation at www.SpaceFoundation.org, and follow us on Facebook, Twitter, Instagram, LinkedIn, and YouTube.
###
All brand names and product names are trademarks or registered trademarks of their respective companies.
Tags: Space Foundation, The Space Report, space economy, space commerce, space technology, space innovation, space investment, space revenue, space industry
Media Contact:
Rich Cooper
Vice President, Strategic Communications & Outreach
Space Foundation
(202) 596-0714
[email protected]
[email protected]
---
Posted in Research and Analysis