Public Policy and Government Affairs
---
Biweekly Washington, D.C., Update for the Week Ending January 29, 2021
Written by: Hanh Le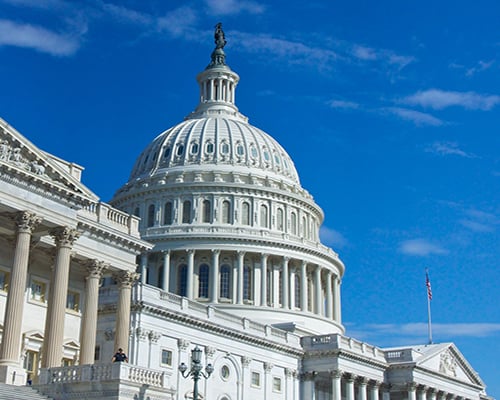 This week, the space community honored the memory of the astronauts who perished in the Apollo 1, Space Shuttle Challenger, and Space Shuttle Columbia tragedies, as well as others who lost their lives in the pursuit of space exploration. The House announced key members for the House Appropriations Commerce, Justice, Science, and Related Agencies Subcommittee, the House Committee on Science, Space, and Technology, and the House Armed Services Committee.
Sign Up for "State of Space 2021," Feb. 9, 10 a.m. EST
The State of Space 2021 program will showcase five unique perspectives from a select group of leaders in the space ecosystem:
The Space Report Quarter 4, 2020 now available
The latest edition of The Space Report highlights that 2020 launch activity hit a 20-year high, and that total 2020 spacecraft deployment tripled the number deployed in 2019.
Commercial satellite deployments increased 477% from 2019 to 2020.
Orbital launches approached the high pace of the Space Shuttle era, with the highest five-year total since 1986–1990.
Download The Space Report Quarter 4 for more findings.
Sign Up for Space Symposium 365
Register here to follow key events and discussions with industry professionals, 365 days a year.
Upcoming panels and speakers:

Feb. 1 — "Construction on the Moon" panel
Feb. 3 — Lt. Gen. John E. Shaw, U.S. Space Force
Feb. 10 — "Women in Space Series" panel
Space Industry Updates
Space Policy Updates
Additional Space Foundation Resources
The latest Space4U Podcast episode features Emily Carney, founder of the Space Hipsters Facebook group, and a writer highly knowledgeable on a number of human spaceflight topics.
The Space Report Quarter 4 is available here.
Online learning, lesson plans, and video lessons for students grades K–12 are available at the Discovery Center website.
Further Reading
The Space Review | Green Run, yellow light
By Jeff Foust
The core stage of the SLS spent last year at Stennis Space Center going through Green Run tests. The final test just took place on January 17, but more than a minute into the test the engines shut down leaving the planned 2021 launch schedule in jeopardy. The article discusses options for the SLS after the test difficulties.
Space Trivia
Sixty-three years ago, on January 31, 1958, the U.S. Army Ballistic Missile Agency launched Explorer-1 — the first U.S. satellite to be launched aboard a Jupiter-C rocket. The satellite later discovered the Van Allen radiation belts. (NASA)
---
Posted in Public Policy and Government Affairs