Uncategorized
---
Volunteer Spotlight: Jon Royce
Written by: Space Foundation Editorial Team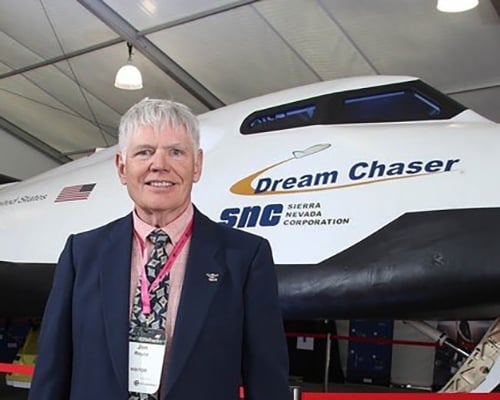 These Volunteer Spotlight articles profile some of the interesting and dedicated people who make Space Foundation programs possible. We could not do the work that we do without the generous and tireless support of our volunteers. This week, we are featuring Space Foundation volunteer Jon Royce.
Professionally, Jon retired from his position as Coordinator of Data and Research for the Community Education Training Department at Pueblo Community College in July 2014. During his tenure at Pueblo Community College, he sat on the President's Cabinet and chaired the Shared Governance Advisory Council.
Royce earned his Bachelor of Science in Industrial Arts Education from The State University of New York-Oswego, and his Master of Education degree in Technology in Education from Lesley University in Cambridge, Mass. Jon's teaching experience includes being an adjunct instructor in the subjects of e-business technology, Server +, and computer repair, as well as drafting and blueprint reading. He has also been a high school teacher in the areas of drafting, metals, energy and power, home and car maintenance, electricity, graphic arts, and transportation.
Beyond his work in education, Jon has been owner of Royce Distribution and Wholesale of Cañon City, Colo., and he has worked for the U.S. Postal Service in various positions including Supervisor of Customer Service, Labor Relations Specialist, Acting Station Manager, and Letter Carrier. He also worked for the Department of Defense at the Portsmouth Naval Shipyard as an Electronics Engineering Technician designing overhaul modifications to 594 and 637 Class submarines.
In his spare time, Jon enjoys traveling (he has been to six of the seven continents), and he also holds a Technician Class amateur radio license.
Jon has been volunteering for the Space Foundation, the Discovery Center, and at Space Symposium since April 2018. He started in our Collections area and has moved into assisting our facilities area to support all the tasks that keep everything in our building running smoothly!
If you are interested in becoming a Space Foundation/Space Foundation Discovery Center volunteer, please reach out to Jennifer Walters, Volunteer Program Manager, at [email protected]
---
Posted in Uncategorized