Public Policy and Government Affairs
---
Biweekly Washington, D.C., Update for the Week Ending March 26, 2021
Written by: Hanh Le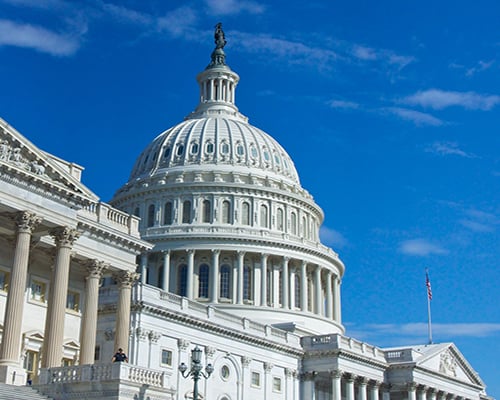 This week, the House and Senate were both in session. President Biden nominated former Florida Senator Bill Nelson to be NASA administrator last Friday. Portions of Biden's FY2022 budget request are expected to be released this week, which will allow appropriators to start on their NASA and defense budget deliberations next week.
Prerelease: 'The Space Report 2021 Q1' Data Sneak Peek
Private employment in the U.S. space industry continued to climb in 2020, despite the economic effects of the global pandemic. Quarterly employment information from the U.S. Bureau of Labor Statistics shows that in five key sectors most closely aligning with space employment, companies added nearly 5,000 jobs last year.

*Preliminary totals for the first half of 2020 (Source: U.S. Bureau of Labor Statistics)
FREE report: The Space Report's complimentary analysis on 2020 launch activity is now available for download here.
Sign Up for Space Symposium 365
Register here to access key events and discussion with industry professionals, 365 days a year.
Upcoming panels and speakers:

April 14 – Panel – "Space Technology: From Space to Earth and Back"
April 22 – Featured Speaker – Brig. Gen. Heather L. Pringle, USAF, Commanding General of the Air Force Research Laboratory
May 19 – Panel – "The Space Beat: Today's Space Reporters Speak"
Space Policy Updates
Space Industry Updates
Key Figure in Space Spotlight: NASA Administrator Nominee Bill Nelson
Last Friday, President Biden nominated former senator and one-time astronaut Bill Nelson as the next NASA Administrator. Nelson formerly represented the state of Florida in the Senate, having served from 2001 to 2019. He was also ranking member of the Senate Commerce Committee from 2015 to 2019.
Former Sen. Nelson was one of the key people behind the Space Launch System (SLS), as he, alongside Sen. Kay Bailey Hutchinson (R-TX), passed the 2010 NASA Authorization bill that paved the way for the creation of the super heavy-lift launch vehicle. During his Senate tenure, Nelson also introduced other legislation such as the Space Exploration Sustainability Act (S.3661) and the NASA Authorization Act of 2013 (S.1317).
Prior to Nelson's time in the Senate, he served in the U.S. House of Representatives from 1979 to 1991 and was chair of the House Space Science Applications subcommittee. During his time in the House, Nelson worked on a variety of space-related legislation, including the Commercial Space Launch Act (H.R. 3765) and the Land Remote-Sensing Commercialization Act of 1986 (H.R. 5229), and additionally, he sponsored other legislation such as a concurrent resolution to celebrate the tenth anniversary of the Apollo-Soyuz mission (H.Con.Res. 172). He also spent six days in space as a payload specialist aboard the Space Shuttle Columbia in 1986. In his 1988 memoir, Mission: An American Congressman's Voyage to Space, Nelson wrote, "If I was going to speak about the space program accurately in Congress, I wanted to feel what the astronauts felt."
After leaving the Senate, Nelson served on NASA's advisory council in 2019. At that time, former NASA Administrator Jim Bridenstine tweeted, "Nelson is a true champion for human spaceflight and will add tremendous value as we go to the Moon and on to Mars."
If confirmed by the Senate, the space community can expect Bill Nelson to leverage his strong relationship with President Biden and his congressional experience to advance NASA missions.
Space Policy Review: Space Force
The FY2021 National Defense Authorization Act (NDAA) continues to acknowledge the U.S. Space Force as the sixth armed service of the United States, under the U.S. Air Force. The branch's organizational structure will remain the same with a Chief of Space Operations (CSO), an Assistant Secretary of Defense for Space Policy, and a Senate-confirmed Assistant Secretary of the Air Force for Space Acquisition Integration. In 2020, the Space Force made significant progress, holding their first national security launch in March, and launching various spaceplanes, GPS satellites, and military communications satellites throughout the year.
For FY2021, the Space Force requested $15.5 billion in funding and received $15.2 billion. In the appropriations bill, the Space Force's requested budget included resources to build its staff to 9,979 people, and to provide funding for its new headquarters and field centers. For the first time, Congress separated funding for the Space Force and Air Force research, development, testing, and evaluation (RDT&E) budgets, providing $10.5 billion. FY2021 funding includes $2.4 billion for operation and maintenance, and $2.3 billion for procurement.
Further Reading
The Gazette | COVID: The Longest Year
By: The Gazette staff
Tom Zelibor, CEO of Space Foundation, headquartered in Colorado Springs, Colorado, reflects on the postponement of the 36th Space Symposium.
Zelibor said he's missed the people who attend the annual Symposium, as well as the students and others who visited the organization's Discovery Center prior to COVID.
The article discusses how Space Foundation moved much of its programming online and to television through a variety of platforms, some of which will continue after the pandemic has ended.
Additional Space Foundation Resources
The latest Space4U Podcast episode features Alan Mittelman – Founder of Eagle Eyes Optics, a 2010 Space Technology Hall of Fame inductee.
A summary of the Subcommittee on Strategic Forces Hearing: "Near-Peer Advancements in Space and Nuclear Weapons" is available on our website.
Online learning, lesson plans, and video lessons for students grades K–12 are available at the Discovery Center website.
Space Trivia
Fifty-six years ago, on March 18, 1965, Soviet cosmonaut Alexei Leonov conducted the first-ever spacewalk, during which his spacesuit ballooned, rendering him unable to reenter the airlock, and requiring him to decompress the suit beyond safety limits to allow him reentry, which gave Leonov the bends. (New Scientist)
Contributor: Katie Nelson, Intern, Space Foundation
Editor: Andrew de Naray, Multimedia Content Writer & Editor, Space Foundation
---
Posted in Public Policy and Government Affairs