Uncategorized
---
Volunteer Spotlight: Scott Carter
Written by: Space Foundation Editorial Team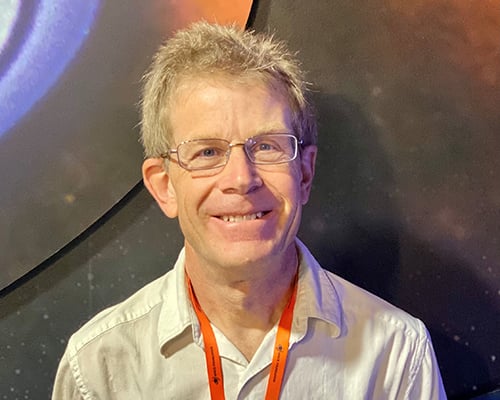 These Volunteer Spotlight articles profile some of the interesting and dedicated people who make Space Foundation programs possible. We could not do the work that we do without the generous and tireless support of our volunteers. This week, we are featuring Space Foundation Discovery Center volunteer Scott Carter.
Scott retired following more than 35 years working as an Electronic Engineer in the University of Colorado's IT department. He first became interested in space by reading his father's collection of classic sci-fi, and by watching the Apollo lunar landings and the original Star Trek.
Scott has witnessed many launches in person, including the final three Space Shuttle launches, and he's also traveled to Russia to watch a Soyuz launch. As far as commercial launches go, he's been a spectator for the SpaceX launches of their Falcon 9 and Falcon Heavy. He intends to catch a SpaceX Starship hop someday, but that has proven more difficult due to the spontaneous scheduling of those launches.
Besides space, Scott is passionate about combating climate change and loves giving rides in electronic vehicles (EVs) to anyone who's interested. He's also installed his own solar panels and has two EVs that allow him to "drive on sunshine," like so many rovers!
If you are interested in becoming a Space Foundation/Space Foundation Discovery Center volunteer, please reach out to Jennifer Walters, Volunteer Program Manager, at [email protected]
---
Posted in Uncategorized