Uncategorized
---
Volunteer Spotlight: John Berson
Written by: Space Foundation Editorial Team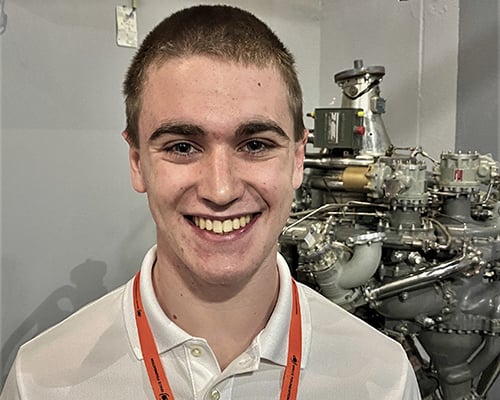 These Volunteer Spotlight articles profile some of the interesting and dedicated people who make Space Foundation programs possible. We could not do the work that we do without the generous and tireless support of our volunteers. This week, we are featuring Space Foundation Discovery Center volunteer John Berson.
John Berson is a rising senior at St. Mary's High School in Colorado Springs. Space has always interested him, and he hopes to eventually pursue a career in aerospace engineering. At St. Mary's he has taken several engineering courses through the PLTW program, which have deepened his interest in STEM (science, technology, engineering and mathematics) subjects and aerospace. Outside of school and volunteering, he is a competitive dancer and also enjoys skiing, golfing, hiking and reading.
His favorite part of the Discovery Center is the rockets area of the gallery. He loves admiring the scale models of various historic rockets, which he feels are even more impressive when you realize that although the models look large, they are only 1:20 scale.
His favorite part of volunteering at the Discovery Center is getting to share his love of space, especially with children. He thinks there's nothing better than seeing a child's face light up as they interact with exhibits, learn about space, and think about all the possibilities of future space endeavors.
If you are interested in becoming a Space Foundation/Space Foundation Discovery Center volunteer, please reach out to Jennifer Walters, Volunteer Program Manager, at [email protected]
---
Posted in Uncategorized