Public Policy and Government Affairs
---
Biweekly Washington, D.C., Update for the Week Ending July 16, 2021
Written by: Hanh Le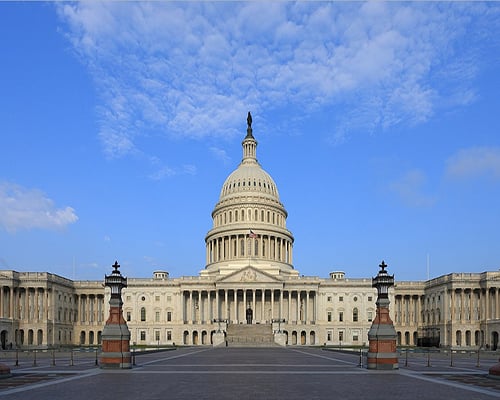 This week, Richard Branson and the Unity 22 crew, comprised of Sirisha Bandla, Beth Moses, Coplin Bennet, and pilots Michael Masucci and Dave Mackay, successfully completed the first fully crewed flight for Virgin Galactic and made a giant leap towards commercial suborbital spaceflight. Next week, Blue Origin will fly the oldest and youngest people ever to go into space.
The House Appropriations Committee held several markups and approved the FY2022 defense appropriations bill and the Commerce, Justice, Science, and Related Agencies bill.
The Space Report Q2 2021 now available
The 2021 Q2 edition reports that the global space economy in 2020 grew by 4.4% to nearly $447 billion from a revised 2019 total. While government spending was down slightly more than 1%, commercial revenue in 2020 grew 6.6%, reaching $356.68 billion.
S. military space spending increased by more than 6% in 2020 but over the past decade, represents a 2.3% reduction.
Space employment in European nations climbed to more than 50,000 in 2020, posting a 42% increase since 2010.
Visit our page to purchase The Space Report. Contact us to receive a free Key Takeaways document.
Tom Zelibor discusses global space economy on BBC
Space Foundation CEO, Adm. Tom Zelibor, joined BBC World News and discussed with Christian Fraser about The Space Report's findings on the global space economy and workforce development in the space industry.  Zelibor also provided commentary on the growth of commercial space revenue and explained the history of government and civil space spending.
Start Here for Space series
Space Foundation's Start Here for Space is a free series on our virtual platform. The series will consist of 20 minutes videos that aim to provide a foundation on emerging space issues and current space events. Our first season will feature episodes ranging from space debris to the Artemis Accords.
Register here to access the series, free 365 days a year, on Symposium 365 website.
Tune in every Tuesday at 1pm EDT for new episodes.
Watch our latest episode on Space Weather and the Space Weather Advisory Group by Dr. Jinni Meehan (NOAA).
Space Policy Updates
Space Industry Updates
Wally Funk profile
Mary Wallace "Wally" Funk, an aviator, was selected to launch along Jeff Bezos in a suborbital flight on July 20th.  Spaceflight has been her lifelong dream and she will be the oldest person to launch into space.
She became a professional aviator and was the first woman to complete the FAA's General Aviation Operations Inspector Academy course. She logged more than 19,600 flight hours. In the 1974, she became the first female Air Safety Investigator in the National Transportation Safety Board.
In the 1960s, she participated in the Women in Space program and was part of the Mercury 13 group. Despite the female candidates completing rigorous physical and mental training, NASA cut the program. Since then, Funk has been rejected three more times by NASA but continued to pursue her dream of going to space, including buying a ticket with Virgin Galactic.
In addition to her pilot license, she also has a Bachelor of Science degree in Secondary Education at Oklahoma State University.
Further Reading
Ars Technica | Here's why Richard Branson's flight matters- and, yes, it really matters.
By Eric Berger
The author discusses the history of commercial spaceflight and outlines the future envisioned by billionaires.
Additional Space Foundation Resources
Space Trivia
On July 20th, 1969, Neil Armstrong and Buzz Aldrin became the first humans to set foot on the moon during the Apollo 11 mission. (NASA)
---
Posted in Public Policy and Government Affairs