Uncategorized
---
Volunteer Spotlight: Hudson Puhek
Written by: Space Foundation Editorial Team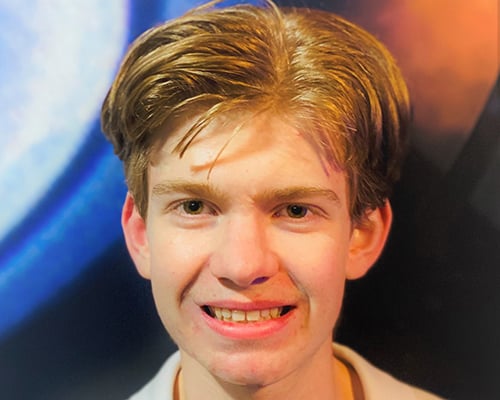 These Volunteer Spotlight articles profile some of the interesting and dedicated people who make Space Foundation programs possible. We could not do the work that we do without the generous and tireless support of our volunteers. This week, we are featuring Space Foundation Discovery Center volunteer Hudson Puhek.
Hudson is 16 years old and has always called Colorado Springs home. His favorite school subjects are math and science, as he feels that they are both great tools for gaining a better understanding of our universe.
Puhek loves astronomy. He has competed on a homeschool Science Olympiad team for five years and earned five medals at regional and state competitions. He enjoys the team aspect of those competitions and how they further his scientific studies. He also competed in a national-level astronomy event in the fall of 2020, coming in 5th place. After he graduates, Hudson would like to attend the United States Air Force Academy and study Aerospace Engineering.
Hudson's hobbies outside of school and volunteering include building and flying radio-controlled airplanes and drones, running, hiking, biking, and stargazing.
This is Puhek's first summer as a Junior Docent. His favorite feature of the Discovery Center is the Science On a Sphere®, as he feels it's a great visual tool to introduce guests to the fields of astronomy and space.
If you are interested in becoming a Space Foundation/Space Foundation Discovery Center volunteer, please reach out to Jennifer Walters, Volunteer Program Manager, at [email protected]
---
Posted in Uncategorized