Public Policy and Government Affairs
---
Biweekly Washington, D.C., Update for the Week Ending August 13, 2021
Written by: Hanh Le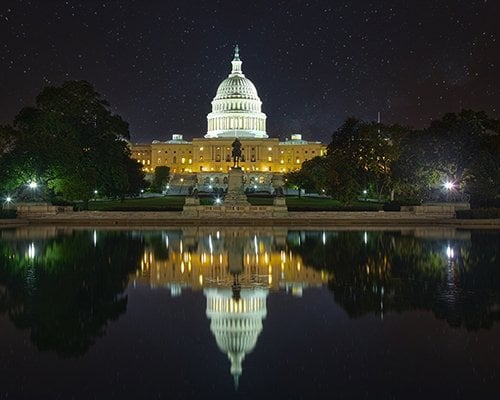 This week, the $3.5 trillion spending package passed the Senate. House Majority Leader Steny Hoyer said the House will return from recess early to take up the budget resolution and infrastructure bill during the week of Aug. 23. 
36th Space Symposium
You can still register for the Virtual Experience at Space Symposium. Join us to see, hear, and engage with the presentations, panels, awards, and programming that will unfold at this year's event.
This virtual event has a dashboard for users to access Symposium live and on-demand content, create a custom agenda, engage live with Q&A with the speakers, and a subscription to Symposium 365 through December 31, 2021.
Some of this year's featured speakers include: Gen. John "Jay" Raymond (USSF), NASA Administrator Senator Bill Nelson, Frank Kendall III (USAF), Senator Jerry Moran (R-KS), and Dr. Josef Aschbacher (ESA).
Space Policy Updates
Space Industry Updates
Chirag Parikh profile
Chirag Parikh has been nominated to the position of Executive Secretary of the National Space Council. Parikh has served in numerous positions in the federal government; among them, Director of Space Policy and Director of Defense Policy and Strategy at the National Security Council under the Obama Administration.
Prior to his nomination to the National Space Council, Parikh was serving as Senior Director at Microsoft's Azure Space. In this position, he spearheaded Microsoft's efforts to connect its cloud capabilities with the broader space sector and satellites. His background in the defense, space, and intelligence community includes time spent at the National Geospatial-Intelligence Agency, National Intelligence Council, and National Air and Space Intelligence Center.
Parikh succeeds Scott Pace as Executive Secretary. The National Space Council was disbanded in 1993 and revived under the Trump Administration. While Vice President Harris officially leads the Council, the day-to-day operations will be headed by Parikh.
Further Reading
The Space Review | Little Wizards: Signal intelligence and the Cold War
By Dwayne A. Day
The author provides an overview and history of programs such as P-11, SAVANT and TIVOLI.
Additional Space Foundation Resources
The Space Report (TSR) Q2 2021 is now available.
Get a free White Paper from The Space Report on President Biden's FY2022 Space Budget.
Online learning, lesson plans, and video lessons for students grades K–12 are available at the Discovery Center website.
Space Trivia
The first Space Symposium was held in 1984 with over 250 space enthusiasts in attendance. (Space Symposium)
---
Posted in Public Policy and Government Affairs