Public Policy and Government Affairs
---
Biweekly Washington, D.C., Update for the Week Ending October 22, 2021
Written by: Elizabeth Anderson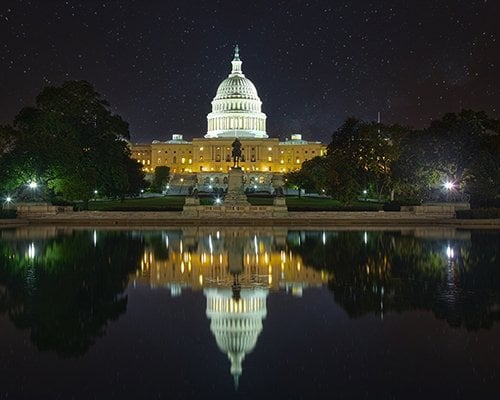 This week in Washington, the Senate Appropriations Committee exceeded NASA's budget request for FY22 but only added $100 million to be spent on the Human Landing System, the Lucy mission successfully launched from Cape Canaveral, Congress hosted two hearings on the future of deep space travel and international partnerships, and William Shatner went where very few have gone before. 
Space Foundation – CTE Caucus Briefing
Space Foundation co-hosted a briefing at the House of Representatives with the Congressional Career and Technical Education Caucus co-chaired by Rep. Jim Langevin (D-RI) and Rep. G.T. Thompson (R-PA) on October 20, 2021. Dr. Autumn Thomas, Space Foundation's Vice President for Education, gave a presentation on the importance of space-based education in K-12 curriculum for the future of the space industry. This briefing was Space Foundation's first event back on Capitol Hill since the pandemic and was well attended by House staffers.
October Stakeholder Call
This month's Stakeholder Call will take place on Tuesday, October 26th at 11 AM EST. Audrey Schaffer, Director of Space Policy at the National Security Council will be speaking. This call will be a 30-minute conversation providing an opportunity for the space community to gather and hear directly from top minds. Following a 15-minute presentation from our speaker, there will be time reserved for Q&A from the community. If you are interested in attending, please RSVP to Elizabeth Anderson, Government Affairs Associate, at [email protected].
Space Policy Updates
Space Industry Updates
Congressional Hearings
This week, the Senate and House both hosted key hearings on current issues in the space industry. The Senate Subcommittee on Space and Science hosted a hearing on International Collaboration and Competition in Space: Oversight of NASA's Role and Programs. The House Subcommittee on Space and Aeronautics hosted a hearing on Accelerating Deep Space Travel with Nuclear Propulsion.
Notes on October 21st Senate Hearing
Notes on October 20th House Hearing
Space Leader Profile
William Shatner is a Canadian actor best known for his portrayal of Captain James T. Kirk in the iconic Star Trek television and film series. Shatner became oldest person to travel to space at 90 years old, in his 10-minute sub-orbital flight with Blue Origin on October 13. His flight beat out the previous record of 82 years old set by Wally Funk on July 20.
The actor made a total of 94 appearances in Star Trek episodes from the years 1966-1969 and starred in 7 Star Trek films between 1979-1994. Shatner was originally trained as a Shakespearean actor and over the course of his career has published eight musical albums. Shatner is a 2x Emmy winner, Golden Globe winner, and multiple time world champion horse breeder. He is featured as this weeks' space leader profile as he is one of the inaugural civilian space travelers in the dawning era of space tourism.
Reading Corner
Air Force Magazine | International Space Engagement Helps Fill Strategic Gaps
America's space-dependent way of life and its military space advantage are threatened by the new space weapons wielded by adversaries. However, Space Force is motivating traditional and new partners to fill strategic gaps and to guarantee access to space through investment and information-sharing.
Fun Fact
On October 24th, 1946, the first motion pictures were taken of the Earth from space by a US-launched V-2 rocket. This was accomplished by researchers at White Sands Missile Base who attached a movie camera to the V-2 rocket, capturing the first bird's-eye view of Earth.
Additional Space Foundation Resources
The Space Report (TSR) Q2 2021 is now available
Get a free White Paper from The Space Report on President Biden's FY2022 Space Budget
Online learning, lesson plans, and video lessons for students grades K–12 are available at the Discovery Center website
---
Posted in Public Policy and Government Affairs