Space Foundation News
---
Beowulf Computing Cluster, Bubble Detector Technology, CubeSat Design Standard Announced as 2022 Space Technology Hall of Fame Inductees
Written by: Space Foundation Editorial Team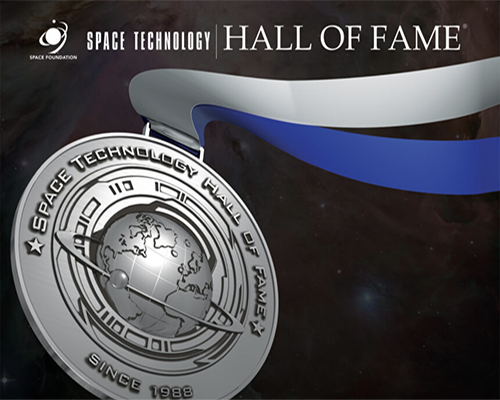 Space Foundation to Honor Inductees at 37th Space Symposium
COLORADO SPRINGS, Colo. — Feb. 22, 2022 — Space Foundation, a nonprofit advocate organization founded in 1983 for the global space ecosystem, today announced that three innovative technologies developed for space will be inducted as the 2022 class into the organization's Space Technology Hall of Fame®. The induction ceremony will occur during the 37th Space Symposium, held April 4-7, 2022, at The Broadmoor in Colorado Springs.
The 2022 inductees are:
Beowulf Computing Cluster
Bubble Detector Technology
CubeSat Design Standard
Founded in 1988, the Space Technology Hall of Fame recognizes the life-changing technologies emerging from global space programs; honors the scientists, engineers, and innovators responsible; and communicates to the public the importance of these technologies as a return on investment in space exploration.
Remarking on the honorees, Space Foundation CEO Tom Zelibor said, "The advanced efforts put forth by this year's inductees are outstanding examples of adapting space technology for the enhancement of our lives here on Earth. On behalf of the entire Space Foundation, congratulations and we welcome the opportunity to herald life-changing work such as theirs and see it honored in the Space Technology Hall of Fame."
2022 Space Technology Hall of Fame Inductees
Beowulf Computing Cluster
In the late 1980s, the United States was concerned about falling behind in super-computing technology. James Fisher, then head of the Earth and Space Sciences (ESS) group at NASA Goddard Space Flight Center, identified the contributing issues, assembled a team, and supplied the support, funding, and prototype systems to bring high-performance computing to fruition.
Thomas Sterling was then brought into the ESS group and came up with the original Beowulf concept, realizing that an open-source operating system might allow the group to cluster computers together, thereby achieving the best speeds at a substantially lower cost. NASA published the results, and the group followed by publishing a detailed account of how to build a Beowulf system. Companies adopted the technology and began to offer clustered systems, and by 1998, pre-configured Beowulf-type systems were available for purchase. Penguin Computing is a provider of Linux-based high-performance computer systems based on the Beowulf cluster and was one of the companies that made the cluster concept commercially viable. Beowulf-style clusters are still in use today around the globe.
Bubble Detector Technology
Nuclear physicist Dr. Harry Ing devised the original concept for the Bubble Detector. He led the R&D effort to develop the technology while working as a research scientist at Chalk River Nuclear Laboratories of Atomic Energy of Canada Ltd. Once proven and the wide range of uses identified, the Canadian government sought to introduce the technology into the private sector.
In 1988, Dr. Ing formed BTI and created the Bubble Detector to identify and record levels of neutron radiation exposure to humans. The detector is a small vial worn by astronauts while in space, and the portability of the unit ensures that the readings are accurate.
The technology has flown on more than two dozen space missions. BTI continues to work with the Canadian Space Agency to provide detectors and further refine the technology supporting the International Space Station and other international space programs.
CubeSat Design Standard
Individuals: Bob Twiggs, Stanford University Space Systems Development Laboratory professor, retired; Jordi Puig-Suari, California Polytechnic State University professor, retired
Organizations: Cubesat.org, part of California Polytechnic State University CubeSat Lab; Ames Research Center, NASA
In 1999, Bob Twiggs, then a professor at Stanford University, and Jordi Puig-Suari, a professor at California Polytechnic State University, created CubeSat as a teaching tool to hasten access and provide experience to satellite functionality for students. CubeSat, a miniaturized satellite conforming to strict design specifications, is used to develop skills necessary for the design, manufacture, and testing of small satellites intended for low Earth orbit and to perform scientific research functions.
Twiggs and Puig-Suari developed the basic CubeSat design that would become the worldwide standard, including the launching mechanism known as the P-POD. The one key element in the concept's success — the standardization of the P-POD — made it simpler for universities and research groups to launch CubeSats. In addition, it gave launch providers confidence that the technology was proven to deploy safely, without risk to launch vehicles or other payloads.
CubeSat.org, a continuation of the work done by Puig-Suari, is responsible for managing and updating the standards for CubeSats and is currently the only governing body for CubeSat technology. The first use of a CubeSat for a NASA science mission was in 2006 at Ames Research Center to study the effects of space on living organisms. The agency has continued to deploy CubeSats as a part of various space exploration missions.
To view all inducted technologies, please visit www.spacefoundation.org/inducted-technologies/.
About Space Symposium
Space Symposium is the premier assembly for the global space ecosystem, hosted by Space Foundation since 1984. The live event is widely attended by commercial and government leaders, young professionals, entrepreneurs, and educators in Colorado Springs, Colorado. Last year's 36th Space Symposium enabled its thousands of global attendees to seamlessly engage and conduct business both in-person and virtually via Symposium 365 Digital Platform. For a complete listing of Space Symposium co-sponsors, please click here. For more information, please visit www.spacesymposium.org.
About Space Foundation
Space Foundation is a nonprofit advocate organization founded in 1983, offering a gateway to information, education, and collaboration for space exploration and space-to-Earth industries that define the global space ecosystem. Driven by a partnership model, Space Foundation operates three divisions that unite the entire spectrum of stakeholders — business, government, education, and local communities — through support from corporate membership, sponsorship, fundraising, and grants. Symposium 365 is the premier source for media and events, including Space Symposium and The Space Report. Center for Innovation and Education is a lifelong learning platform. Global Alliance facilitates collaboration around the world. Visit Space Foundation at www.SpaceFoundation.org, and follow on LinkedIn, Facebook, Instagram, Twitter, and YouTube.
###
All brand names and product names are trademarks or registered trademarks of their respective companies.
Tags: Space Foundation, Space Symposium, Space Technology Hall of Fame, Beowulf Computing Cluster, Bubble Detector Technology, CubeSats, space industry event, space technology, space innovation, space ecosystem, space exploration, space-to-Earth industries
Media Contacts:
Rich Cooper
Vice President, Strategic Communications & Outreach
Space Foundation
(202) 596-0714
[email protected]
Dottie O'Rourke
TECHMarket Communications
(650) 344-1260
[email protected]
---
Posted in Space Foundation News