Space Foundation Press Releases
---
37th Space Symposium Final Countdown with One Week to Go
Written by: Space Foundation Editorial Team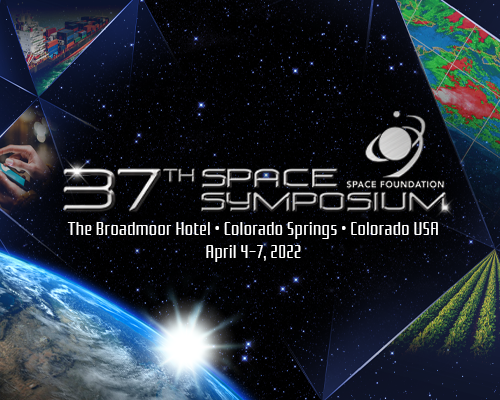 Welcomes More Than 15 Heads of Space Agencies to Gathering of the Global Space Ecosystem
COLORADO SPRINGS, Colo. — March 28, 2022 — Space Foundation, a nonprofit advocate organization founded in 1983, today announced details leading up to the 37th Space Symposium. The premier assembly for the global space ecosystem will be held April 4-7, 2022, at The Broadmoor in Colorado Springs and virtually through the Virtual Experience platform. Registration and details can be found at www.spacesymposium.org/.
The annual event will reconvene all sectors of the space ecosystem to inform, update and connect international space agencies, commercial space businesses, military, national security and intelligence organizations, federal and state government agencies, private space travel providers, space entrepreneurs, and more. More than 15 heads of space agencies are expected to speak, with over 10,000 attendees expected from more than 25 countries.
Featured speakers include:
Josef Aschbacher, Director General, European Space Agency (ESA)
GEN James H. Dickinson, USA, Commander, U.S. Space Command
Stacey A. Dixon, Principal Deputy Director of National Intelligence (PDDNI)
The Honorable Frank Kendall, Secretary, U.S. Air Force
Pam Melroy, USAF (Ret.), Deputy Administrator, NASA
Chirag Parikh, Executive Secretary, National Space Council, The White House
John W. "Jay" Raymond, United States Space Force, Chief of Space Operations, United States Space Force
Visit www.spacesymposium.org/agenda/ to see the full 37th Space Symposium agenda and www.spacesymposium.org/marketing-speakers/ to view all the scheduled presenters.
About Space Symposium
Space Symposium is the premier assembly for the global space ecosystem, hosted by Space Foundation since 1984. The live event is widely attended by commercial and government leaders, young professionals, entrepreneurs, and educators in Colorado Springs, Colorado. Last year's 36th Space Symposium enabled its thousands of global attendees to seamlessly engage and conduct business both in-person and virtually via Symposium 365 Digital Platform. For a complete listing of Space Symposium co-sponsors, please click here. For more information, please visit www.spacesymposium.org.
About Symposium 365
Symposium 365, a division of Space Foundation, is the premier source for media and events in the global space ecosystem, offering authoritative news and information and venues for networking and conducting business via the world-renowned Space Symposium, Symposium 365 Digital Platform and The Space Report. Serving commercial, government and education sectors, Symposium 365 produces signature programming — live and online — for professionals, entrepreneurs, educators and students to learn, connect and conduct business 365 days a year. To learn more about Symposium 365, please visit www.spacesymposium365.org.
About Space Foundation
Space Foundation is a nonprofit advocate organization founded in 1983, offering a gateway to information, education and collaboration for space exploration and space-to-Earth industries that define the global space ecosystem. Driven by a partnership model, Space Foundation operates three divisions that unite the entire spectrum of stakeholders — business, government, education and local communities — through support from corporate membership, sponsorship, fundraising and grants. Symposium 365 is the premier source for media and events, including Space Symposium and The Space Report. Center for Innovation and Education is a lifelong learning platform. Global Alliance facilitates collaboration around the world. Visit Space Foundation at www.SpaceFoundation.org, and follow us on LinkedIn, Facebook, Instagram, Twitter and YouTube.
###
All brand names and product names are trademarks or registered trademarks of their respective companies.
Tags: Space Foundation, Space Symposium, Symposium 365 Digital Platform, virtual event, space economy, space technology, space innovation, space ecosystem, space commerce, space exploration, space-inspired industries, space agencies, space entrepreneurs, space travel, national security, intelligence agencies, The Broadmoor
Media Contacts:
Rich Cooper
Vice President, Strategic Communications & Outreach
Space Foundation
(202) 596-0714
[email protected]
Dottie O'Rourke
TECHMarket Communications
(650) 344-1260
[email protected]
---
Posted in Space Foundation Press Releases