Partner News
---
Italy at 37th Space Symposium
Written by: Space Foundation Editorial Team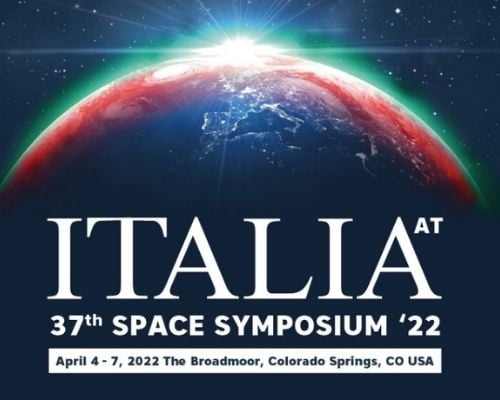 For the first time, Italy will be present with a National Pavilion showcasing 12 leading companies
The Italian Trade Agency, the Governmental Agency that supports the business development of Italian companies abroad and promotes the attraction of foreign investment in Italy, is proud to announce its first-ever cohort participation at the upcoming 37th Space Symposium in Colorado Springs, CO. The Italian Trade Agency, will be spotlighting a world-class delegation of 12 Italian companies including: AIKO – Autonomous Space Missions, AlmaSistemi, Altec , Connex Italiana , IngeniArs., Intecs, IRCA, Zoppas Industries Heating Element Technologies, Leaf Space, NurjanaTech , Officina Stellare , Sabelt , Telespazio
The Italian Pavilion will be located at booth number 603 (South Hall).
For the first time at Space Symposium, Italy will present itself with a united"Sistema Italia" featuring: The Italian Space Agency (ASI), The Italian Embassy in Washington, D.C., AIAD, ASAS and AIPAS.
Italy is among the top ten suppliers for the US in global terms in the aerospace sector. Its total market share is 3%; in 2021 Italian aerospace exports to the U.S. exceeded 1.4 billion USD, demonstrating ample potential for the development of ever greater commercial opportunities.
This will be the ITA's second aerospace exhibiting event of the year, continuing to build on the momentum of our recently launched "There's a Lot of Space in Italy" campaign to further promote Italian companies actively contributing to the Space sector. The campaign is designed to highlight the leading role of the Italian aerospace industry in the world, raising its recognition among US aerospace operators. An Italian national pavilion will be also present at the following US aerospace events: ADSS (Seattle, WA) and Space Tech (Long Beach, CA).
The Italian Pavilion will also display a small lounge for business meetings and a separated private room to facilitate even more encounters respecting social distancing.
On April the 5th and April the 6th we will host two editions of the "Italian Space Hour" – two networking events to allow attendees to meet the complete Italian delegation and discover more about the Italian New Space Economy Expoforum (2022 dates to be announced during the Symposium).
Symposium during the event.
---
Posted in Partner News