Space Foundation Press Releases
---
Space Foundation Names United States Postal Service Recipient of 2023 Douglas S. Morrow Public Outreach Award
Written by: Space Foundation Editorial Team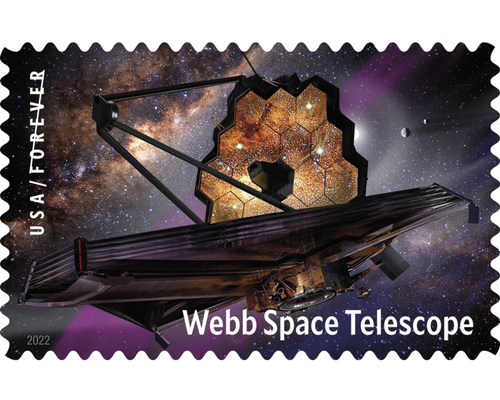 COLORADO SPRINGS, Colo. — Feb. 1, 2023 — Space Foundation, a nonprofit organization founded in 1983 for the global space ecosystem, today announced that it has selected the United States Postal Service (USPS) as the recipient of this year's Douglas S. Morrow Public Outreach Award.
Space Foundation presents the award in memory of the late Douglas S. Morrow, renowned Academy Award-winning writer and producer, space advocate, and former Space Foundation board member, to an individual or organization who has made significant contributions to the public awareness of space programs. The Douglas S. Morrow Public Outreach Award is presented annually at Space Symposium.
"For over 60 years, USPS has celebrated achievements in space exploration, astronomy, space and Earth science, as well as those who pioneered many of these groundbreaking accomplishments," said Space Foundation CEO Tom Zelibor. "Through the color, creativity and character of space-inspired stamps, USPS has long been established as a storyteller through their visionary work, and its contributions should be celebrated."
"The Postal Service is honored to be chosen for this award in recognition of the many space themed stamps we have released over the years," said William Gicker, Director of Stamp services for the U. S. Postal Service. "Stamps are part of the fabric of U.S. culture that celebrates the people, events and cultural milestones of American life, including the strides that Americans have made into space. Starting with rockets appearing on stamps in the 1940s through stamps featuring milestones in the space race in the 1960s to stamps honoring Space Shuttle and NASA's exploration of the solar system, the Postal Service has found space-themed stamps to be an extremely popular subject."
The award will be presented April 17, 2023, during Space Foundation's Space Symposium opening ceremonies to be held at The Broadmoor in Colorado Springs.
About United States Postal Service
The United States Postal Service is an independent federal establishment, mandated to be self-financing and to serve every American community through the affordable, reliable and secure delivery of mail and packages to nearly 163 million addresses six and often seven days a week. Overseen by a bipartisan Board of Governors, the Postal Service is implementing a 10-year transformation plan, Delivering for America, to modernize the postal network, restore long-term financial sustainability, dramatically improve service across all mail and shipping categories, and maintain the organization as one of America's most valued and trusted brands.
The Postal Service generally receives no tax dollars for operating expenses and relies on the sale of postage, products and services to fund its operations.
About Space Symposium
Space Symposium, hosted by Space Foundation since 1984, is the premier assembly for the global space ecosystem. The live event, held in Colorado Springs, Colorado, is widely attended by commercial and government leaders, professionals, entrepreneurs, and teachers around the globe. To learn more about Space Symposium, visit www.spacesymposium.org.
About Space Foundation
Space Foundation is a nonprofit organization founded in 1983, offering information, education and collaboration for global space ecosystem. Driven by partnerships, Space Foundation unites the entire spectrum of stakeholders — business, government, education and local communities — through support from corporate members, sponsors, fundraising and grants. Visit Space Foundation at www.SpaceFoundation.org, and follow us on Facebook, Twitter, Instagram, LinkedIn and YouTube.
###
All brand names and product names are trademarks or registered trademarks of their respective companies.
Tags: Space Foundation, Space Symposium, Douglas S. Morrow Public Outreach Award, space industry event, space technology, space innovation, space ecosystem, space-inspired industries, space exploration, space advocate, United States Postal Service, USPS
Media Contacts:
Rich Cooper
Vice President, Strategic Communications & Outreach
Space Foundation
(202) 596-0714
[email protected]
Dottie O'Rourke
TECHMarket Communications
(650) 344-1260
[email protected]
---
Posted in Space Foundation Press Releases